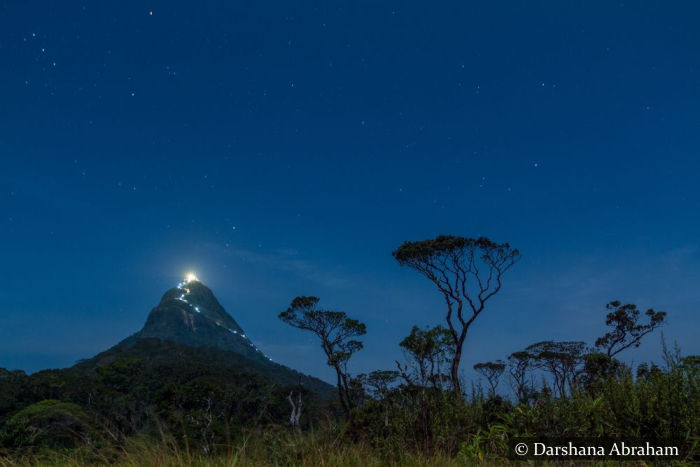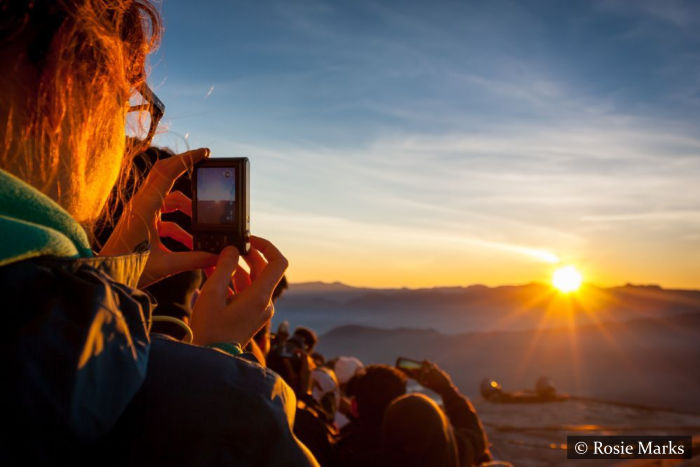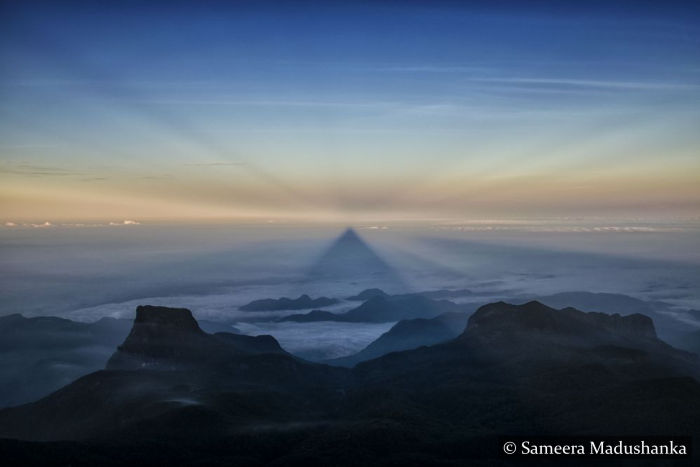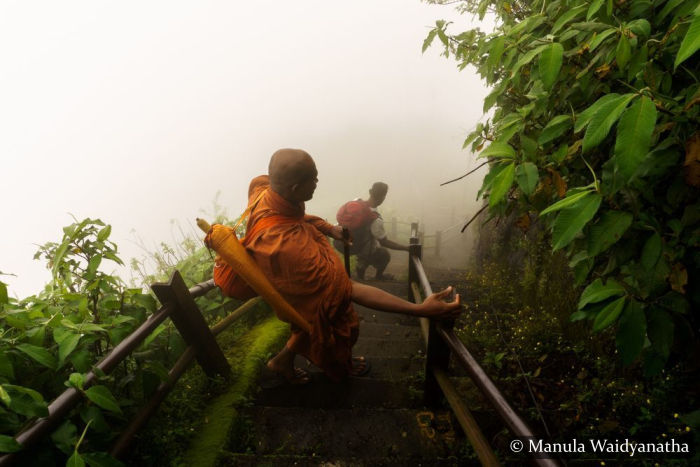 www.cctsrilanka.com-Sri-Pada-Adams-Peak
www.cctsrilanka.com-Sri-Pada-Sunrise
www.cctsrilanka.com-Sri-Pada-Shadow-at-Sunrise
www.cctsrilanka.com-Sri-Pada-Climb-Down
Intro
In the season, you could try to follow the local crowd along the way to the top and return the same way with no problem, possibly. However, in the off season, this is impossible without a trekker's help. Do not expect to have lightings alone the way to the top. No resting places available where you could sit down and enjoy a down-to-earth local cuppa (even if you have a stomach for it) in the off season. 
It is a good idea to check in and eat dinner and crash for few hours before you start the trek. Your wake up call and the trekker would be ready at pre-arranged time. Once you are seen the mythical sunrise around 5.30 AM, you will set the phase for coming down. May be a fresh shower and breakfast before you hit the road with our driver again. 
We have determined to serve you with the best local professional guides available to make your excursion a worthy and memorable one. Therefore, sometimes we have reached out to the best reputable third party services available. On Google Map, you could clearly see the route to destination, local excursions and tourist interests. To have a clear view click " 

 " and then un-click " 

 " irrelevant layers. We constantly update our site with all those interesting facts.
Terms and conditions
Booking : Book online, call us or drop us an email.
Price : The price may slightly go up or down at the time of booking.
Payment : Full payment is settled prior starting the tour/excursion.
Days of the tour or the hours of excursion : The tour or the excursion is completed within mentioned time.
Per hour vehicle detention fee : 3 USD - Tuk Tuk / 5 USD Standard car & van
Weather : If weather conditions are unfavourable activities will be adjusted accordingly.
Today's Marine Forecast : Sri Lanka Department of Meteorology / Buoyweather
Transportation to a destination : Click Here to reserve with an excursion.
Supplements : Basic child supplement includes extra bed and meals (For age 6-12) / All inclusive adult supplement includes entrance tickets and all other activities mentioned / All inclusive child supplement includes extra bed and meals plus entrance tickets and all the activities mentioned.
Child : Age 0 - 6 does not incur any costs with the conditions that the bed is shared and no special requests are made. 
Accommodation cancellation policy : a) 21 Days & above no cancellation fee. b) 15-20 Days - 50% cancellation on the basis booked. c) 14 Days and below & No Show - 100% cancellation on the basis booked.
Refund : Refund will be determined after reducing third party's and our costs.
About this trekking
Best season : All year around
Local season : December to May
Available : Daily
Arranging time needed : 1 day
Hottest month : 
Pick up point : Nuwara Eliya area
Pick up time : Between 2 - 6 PM
Trekking starting point : Nallathanniya (Delhouse)
Trekking starting time : 1 - 2.00 AM
Trekking finishing time : 9 - 10.00 AM
Restrictions : No flash photography of ancient paintings. Cover your knees and shoulders before enter any temple. Do not leave plastics behind / Please do not feed animals.
Basic price includes : Transportation / Clean basic room with aircondition / Trekker  / All Gov tax.
You may bring : A pair of trainers / Insect repellent / Waterproof camera / A torch or head lamp.
---
We love holiday planning!
Adam's Peak or Sri Pada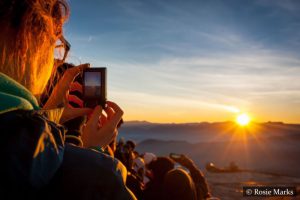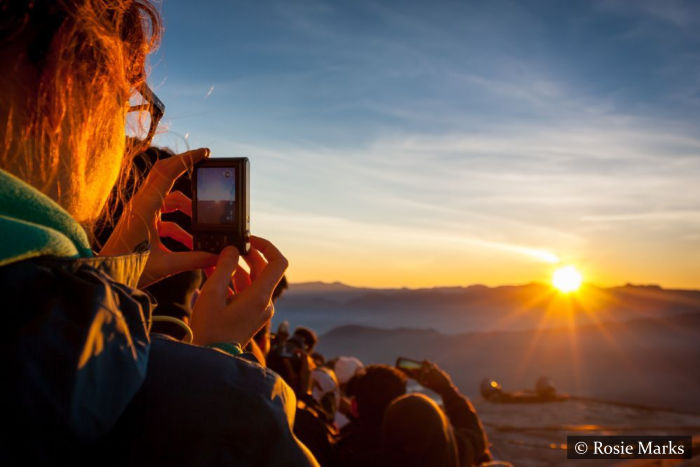 The mythical footprint of Samanala Kanda (Adam's Peak) is contested to be of the Adam of Abrahamic religion, God Vishnu of Hindu religion and Lord Buddha for Buddhist followers. Referring to Islamic script even some western scholars wonder if God actually placed Adam in Samanala Kanda in Sri Lanka after Adam broke the God's rule, eating forbidden fruit from forbidden tree. A Canadian writer, Melanie A. Murray and few others, points to Samanala Kanda as that place. The middle of Sri Lankan hillside was the closest thing there was to near paradise. Then again, think, on the other hand, if the fall of man supposed to be the punishment for the first ever sin committed by men then would not this land be the hell or lands of sinners? We beg to differ ...
In reality, climbers tend to climb this mountain for few reasons. Hikers may hike for the sake of hiking. Adventurers may get a kick out from this climb. Locals consider this as a pilgrimage. But all have one thing in common. It is that everyone wants to enjoy the sunrise from the top! On the top of the mountain there is a Buddhist temple. You may give more attention for your dress code before you enter any temple. Until last century Sri Pada was considered as the highest mountain in Sri Lanka. But accurately it is the fifth highest mountain. Sri Pada is being called Sumanakuta and Samanalakanda as well.
For locals, the season for this climb is from Dec to May. In this season, you may find the stairway crowded, especially in weekends. In the season, there are many cafeterias alone the way to the peak. In the off season too you can climb this mountain. But you must have proper gears, plus a torch, and a trekker since there are no lightings alone the way. And most of the time rain makes the stairway a small waterfall. You will hear animal noises from everywhere.
Buddhists believe that this was the place Buddha left his left foot imprint in Sri Lanka. He visited this mountain top on the invitation of Naga clan prince Sumanasaman, who is now being considered as the guardian deity of Sri Pada mountain. Some of local still worship deity Sumanasaman before journey starts to receive permission and strength to climb. Sri Pada means sacred footprint. Up until early twentieth century, local pilgrims had cleansed themself of any properties belonged to them to their children before the climb thinking that they might never return. Much like the medieval European pilgrimage to Rome. After the arrival of colonists, and with the linkage to islamic script, this place is came to known as Adam's Peak.
Sumanakuta means "The mountain of the deity Sumanasaman". Samanalakanda means "mountain of butterflies". That means in the peak season many butterflies fly upon this mountain from every direction. At least it used to be until recently.