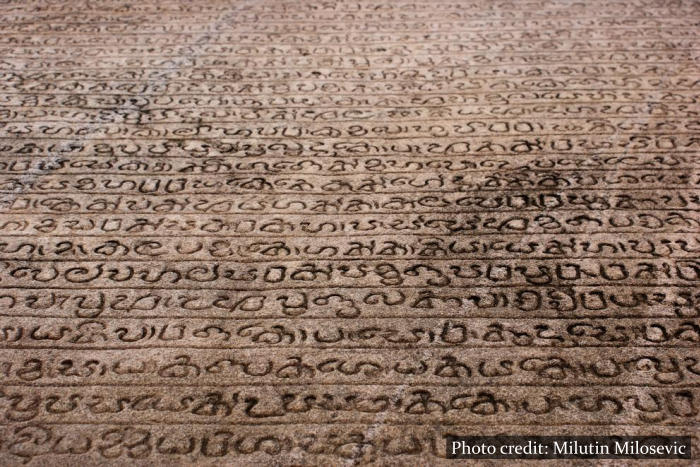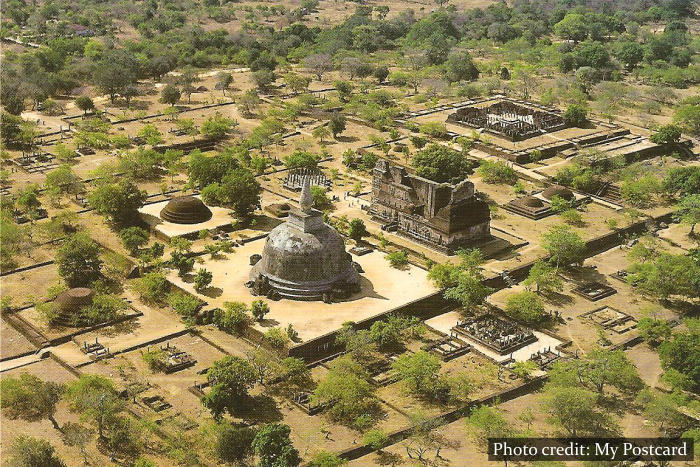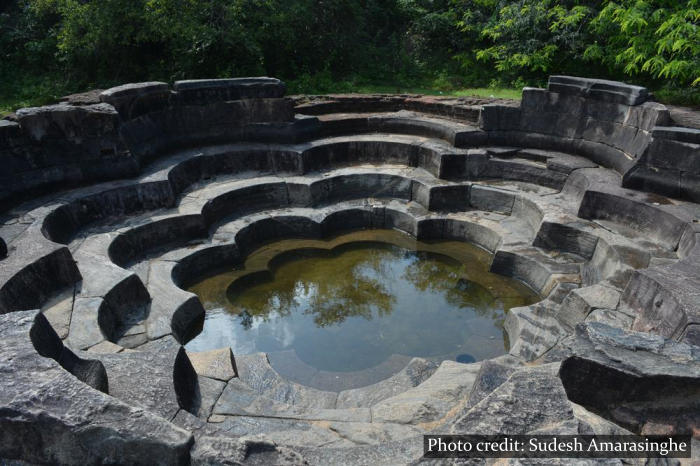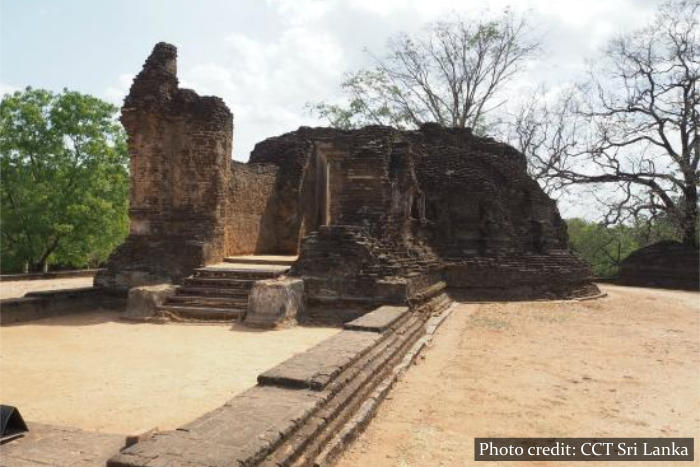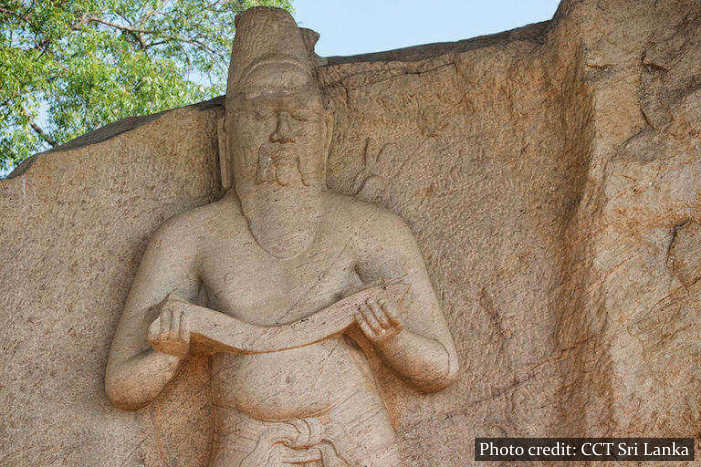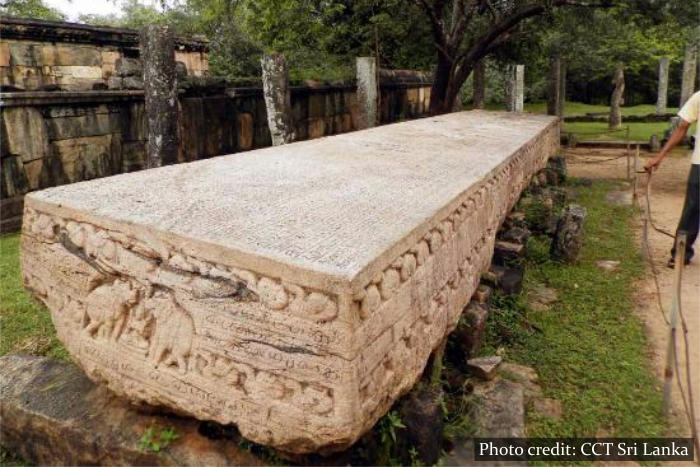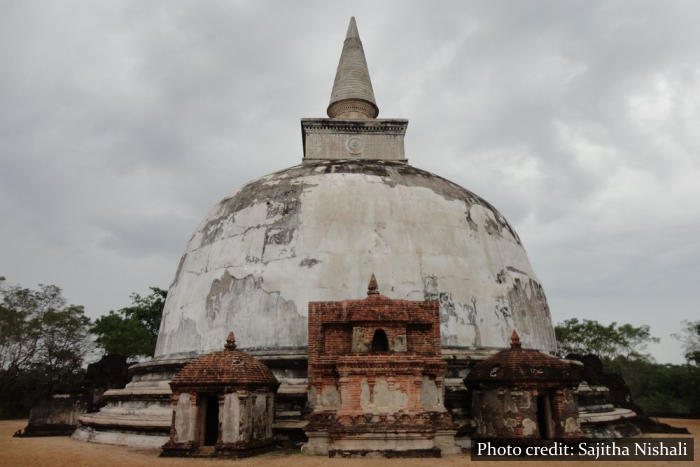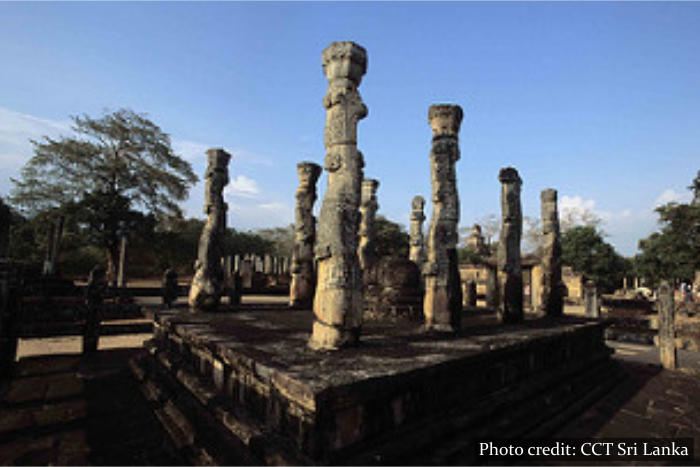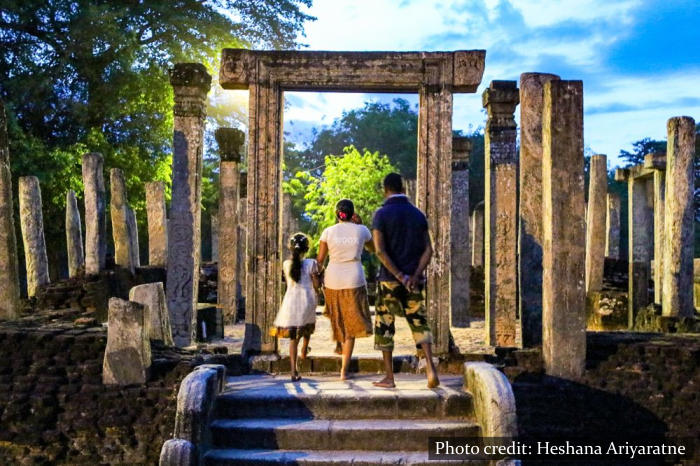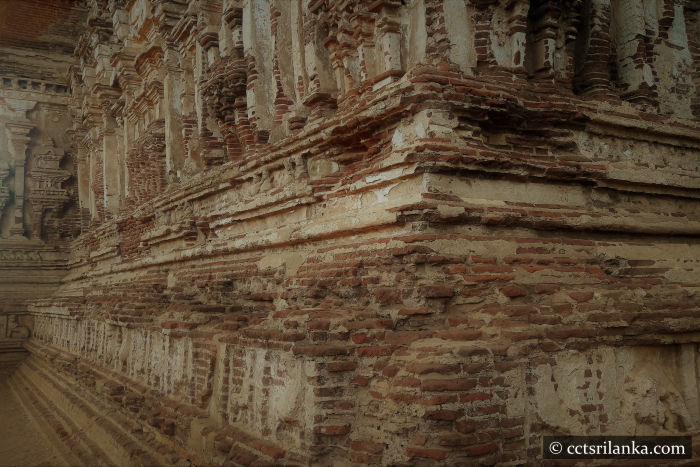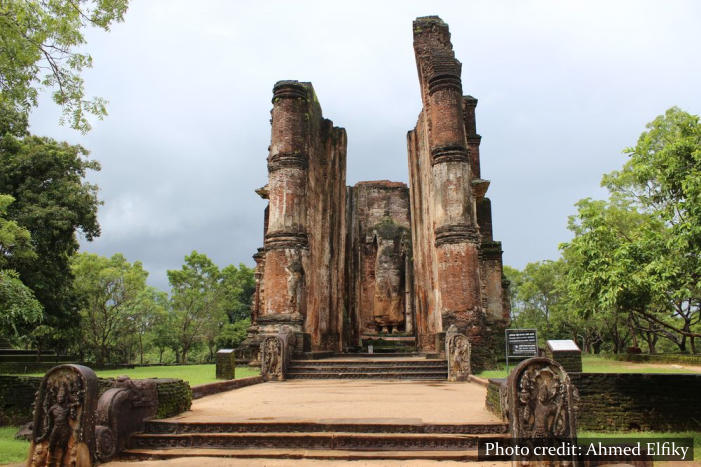 cctsrilanka.polonnaruwa.AlahanaPirivena
cctsrilanka.polonnaruwa.LotusPond
cctsrilanka.polonnaruwa.PothGulViharaya
cctsrilanka.polonnaruwa.Parakramabahu
cctsrilanka.polonnaruwa.GalPotha
cctsrilanka.polonnaruwa.KiriVehera
cctsrilanka.polonnaruwa.NissankamallaLataMadapaya
cctsrilanka.polonnaruwa.CouncilChamber
Cctsrilanka.com-Polonnaruwa-Thiwanka-Pilimage
cctsrilanka.polonnaruwa.ThivankaPilimage
Intro
Our experts have extensive experience in fields doing field research with highly relevant educational backgrounds.
Main sites covered - Vijayabahu palace, Shiva temples, Pabalu stupa, Vataga, Stone book inscription, Alahana Pirivena, Lankathilaka image house, Gal Viharaya, Thivanka image house, Museum, Parakramabahu image and site and Medirigiriya or Dimbulagala or Angamedilla anicut.
What you will learn about - Ancient settlement shifting strategy, ancient architecture and building materials, influence of Hinduism, ancient hospitals and healthcare, marginal monasteries and irrigation technology.
Evening round the table discussion - Our expert is happy to discuss anything over a cup of tea or coffee letter.
If you go alone, read about each separate sites before you go there on Polonnaruwa page to enjoy them.
On Google Map, you could clearly see the route to destination, local excursions and tourist interests. To have a clear view click " 

 " and then un-click " 

 " irrelevant layers. We constantly update our site with all those interesting facts.
General terms & conditions
Booking : Book online, call us or drop us an email.
Price : The price may slightly go up or down at the time of booking.
Payment : Full payment is settled prior starting the tour/excursion.
Days of the tour or the hours of excursion : The tour or the excursion is completed within mentioned time.
Per hour vehicle detention fee : 3 USD - Tuk Tuk / 5 USD Standard car & van
Weather : If weather conditions are unfavourable activities will be adjusted accordingly.
Today's Marine Forecast : Sri Lanka Department of Meteorology / Buoyweather
Transportation to a destination : Click Here to reserve with an excursion.
Refund : Refund will be determined after reducing third party's and our costs.
About this city tour
Best season : All year around
Available : Daily
Best time to start : Early mornings
Arranging time needed : 1 day
Hottest month : 
Pick up point : Within 5 KMs from Polonnaruwa city center. Inform us otherwise.
Starting time : 8 AM
Lunch break : 1 hrs
Finishing time : 6 PM
Total Kms driven : 120
Transportation : Select from above - Our guide uses your transportation
General & specific restrictions : Do not touch corals please / Be a responsible and ethical snorkeler and diver / No flash photography of ancient paintings / Cover your knees and shoulders before enter any temple. / Do not leave plastics behind / Please do not feed wild animals.
Price includes : Transportation / Entrance tickets to Polonnaruwa UNESCO site / Professional guide / Evening round the table discussion / All Gov tax.
Child price : Aged 6 - 12 is considered a child / Aged 0 - 6 is free of charge.
Feedback us : Our drivers and service providers are advised not to promote any other activities or nudge you for shopping. Please leave your feedback on Google.
You may bring : Water / Sandals or shoes which easily removable / Pair of socks if you do not like to walk barefoot / Clothes which cover your shoulders and knees / Hat and sun glass / Sun creams / Camera
Reserve your bicycle : Click here

---
We love holiday planning!
Polonnaruwa (

පොළොන්නරුව)

 Ancient City Complex - (1,070 - 1,214 AD)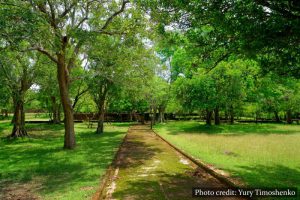 In 993, Anuradhapura Kingdom saw its demise with Raja Raja Chola I invasion. After Raja Raja Chola I, Rajarata - north of Island demarcated by Daduru Oya and Mahaveli Gaga - was ruled by four Chola kings until 1,070. Polonnaruwa was their capital too but Cholas had renamed the city Jananathamangalam. Raja Raja I built a Siva temple in Pollonaruwa to commemorate his victory.
In 1,070, King Vijayabahu I, ruler of Ruhuna, after 17 years of military campaign won the capital city of Rajarata and renamed it Vijayarajapura. He ruled the whole Island as one sovereign nation. He reestablished Theravada Buddhism again. Ruined infrastructure, temples and water reservoirs were repaired and new ones were built. 
King Parakramabahu I, in fact, wage wars with foreign nations and brought immense pride to the Island. But after him, the Island was prone to foreign invaders and internal strife. In 1,215 Kalinga Magha's invation of Rajarata marked the beginning of the end of Polonnaruwa Kingdom.
Interestingly, and in a separate note, Polonnaruwa is called Pulasthipura. The 11.5 feet stature next to the Parakramabahu Reservoir (look at below) is disputed to be of Pulastya. More interestingly, legendary Sri Lankan mighty King, King Ravana, is a grandson of Pulastya - Ravana's father was Visravas. If one is to believe all that, and, there is a relation of Pulastya to Polonnaruwa then Polonnaruwa happens to have a history of 7,000 - 10,000 years old. Some, however, vehemently disagrees. 
Opening time
7.30 AM - 6 PM
---
Entrance tickets
Adult - 30$
Minor - 12.5$
SARC citizens - 12.5$
Concessions - 12.5$ (If arrange in advance)
---
Time at the site
Approximately - 4-5 hrs
King Vijayabahu I  - (1039-1110 AD) - Reigned (1055-1110)
Prince Kitti (Keerthi) was the son of King Moggallana, a ruler of Ruhuna. He lived in a village called Mulasala.
Young Kitti committed his first political assassination when he was 15 (or 16) years old. And the second such followed next year of Kesadhatu who was the ruler of Ruhana. After that prince Kitti was named Vijayabahu. He was a skillful archer.
After becoming the ruler of Ruhuna, he fortified 15 (or 16) years to fight against Chola and to capture Polonnaruwa. His first attempt was unsuccessful. The second attempt, when Cholas were facing civil unrest in Tamil Nadu, was succeeded. He had commanded three battalions against Chola to capture Polonnaruwa. One army was sent to Mahathittha to prevent fresh supplies arriving from South India and second and third battalions were attacked from South and East of Polonnaruwa. This time he succeeded. 
The King married Princess Lilavati, the daughter of Prince Jayatipala of Kanauj as his chief queen. Kanauj is the name of village he lived. Later, he married another princess, Thiloka Sundari, from Kalinga Royal Family (modern day Bangladesh area) as his second queen. And from her he had a son named Vikramabahu (became the king after one year from his father's death and assassinating his uncle, Prince Jayabahu, his father's younger brother) and a daughter named Ratnavali. King Vijayabahu's sister, Mitta, was given in to marriage to a Pandya Prince in Tamil Nadu. They had three sons. The eldest son of them named Manabharana became the husband of Ratnavali - the greatest next king of Polonnaruwa named Parakramabahu I is of their offspring.
After he becoming the sovereign, he sent five Bhikkhus to Burma for higher ordination.With renewed ties with Burma Bhikkhus helped to re-establish Buddhism in the country. Vijayabahu repaired Buddhist temples that were abandoned and destroyed. A new temple was also constructed in Polonnaruwa for the Sacred Tooth Relic of Buddha. The King built resting places along the route to Samanala Kanda (Adam's Peak or Sri Pada). Ambagamu Sannasa (inscriptions), which is found in Nuwara Eliya, asserts latter. Vijayabahu I preserved Hindu Temples built by Cholas and employed Tamil mercenaries in his army. Vijayabahu reconstructed number of irrigation tanks and constructed several new tanks. 
Velaikkara Slab Inscription (inscriptions in a granite slad) within Polonnaruwa UNESCO site records his history. Paana Kaduwa Thamba Sannasa (inscriptions in a copper plates), which found accidentally in 1949, describes his early age and his gratitude towards his early age mentor, Dandanayake Budalnawanata, who looked after his family too during his child hood.
Parakramabahu I - (1123–1186 AD) - Reigned (1153-1186)
Soon after King Vijayabahu I's death the island was again divided into three ruling principalities - Rajarata, Dakkhinadesa, and Ruhuna. 
Meanwhile this young prince Parakrama was born in Peeligama (or Punkagama) in Dakkhinadesa to the ruler of Dakkhinadesa, Manabharana. And his mother was Ratnavali. His father died soon after this little prince was born. Manabharana's brother, Kittisirimegha, took over the Dakkhinadesa. And Manabharana's other brother, Sirivallabha, who was ruling Ruhuna, adopted this young Parakrama and his two sisters, Mitta and Pabhavati, and mother Ratnavali.
Finding no place in Ruhuna for his talent and ambition perhaps this young prince returned to his uncle Kittisirimegha in Dakkhinadesa. In there he educated in Sankhatthali (or Punkhagama). Sirivallabha's young son, Manabharana (Father of King Parakrama was also Manabharana), started reigning after his father's death. 
Restless prince Parakrama, who perhaps finds tribal kingship is too small for his aspiration, defected to Rajarata King, King Gajabahu. On the way he had to slay his teacher, Senpathi Sanka, because Senpathi had informed Kittisirimegha of his intention to flee to Rajarata. On the way, he had to slay a platoon of soldiers of Kittisirimegha too. Kittisirimegha tried to stop him fleeing.
But prince Parakrama, even after earning a place in the high court of King Gajabahu and marring his sister, returned to his uncle Kittisirimegha. Soon after Kittisirimegha died and Parakrama stated reigning Dakkhinadesa. 
Then, he stormed Polonnaruwa and captured King Gajabahu. But his nephew Manabharana of Ruhuna freed the King Gajabahu. King Gajabahu died in natural causes anyway and King Parakramabahu took over Rajarata principality and was crowned as the sole monarchy. But King Gajabahu's ministers, who had resided with Manabharana, soon ensued a war. After defeating his nephew, King Parakramabahu crowned again as the sole protector of this Island for the second time. He ruled from Polonnaruwa.
In the year 1,165, he fights again. But this time against a foreign king of Burma, King Narathu. The main reason is being the seize of princes, who was sent to Cambodia, by Narathu. And some disputes over elephant trade and bad treatments received by Parakramabahu's ambassadors already existed. After five months of fighting in this foreign land his commanders slain the king Narathu and bestow peace again in Burma. 
In 1,167, King Parakramabahu was again appealed by a Pandyan King, King Parakrama, in Tamil Nadu, to assist him in a war against another Pandyan king, king Kulasekhara and some Chola king. By the time King Parakramabahu's army arrived in Ramanathapuram in Tamil Nadu, Parakrama was already been killed in Madurai. Army fortified in Ramanathapuram anyway and slain Kulasekhara and bestow peace again crowning Pandyan king Parakma's son, Virapandu. Cholas records on this war is dissenting - Cholas claim King Parakramabahu's army general named Lankapura and all of his generals were beheaded and displayed their heads at the gate of Madurai. 
King Parakramabahu united disputes and corruptions existed among three Buddhist sects, Mahaviharaya, Abayagiri Viharaya and Jethavana Viharaya, with a convocation held by Maha Buddhist Thero Kassapa. Prisoners he brought from Tamil Nadu were used to renovated Anuradhapura city and its destroyed temples by Chola invasions. Lankathilka Viharaya, Alahana Pirivena, mesmerising Gal Viharya (Stone Shrine), the Hatadage and many other places were built. The King also initiated a Demala (Tamil) Maha Cetiya (dagoba) using his imprisoned Tamil labourers. 
The King built lengthy irrigation systems in Rajarata and Dakkhinadesa. Parakrama Samudraya is only one of his water reservoirs projects. The wetland you see on the left side of the Highway on the way to Colombo from the BI Airport used to be grand paddy cultivation lands under the reign of Parakramabahu. 
Read Capter 62-79 of Culavamsa or Choolavansha
Kalinga Magha - Reigned (1,215-1,236)
King Parakramabahu had mentored no one to ruler after him. 
Next immediate ruler ruled only for few months. The next one was only for five days. And twelve more rulers had tried their luck in Polonnaruwa before Kalinga Maga. Nissanka Mala was an exception. He ruled for lengthy nine years (1187–1196). Remarkably Nissanka Mala had no relation to previous dynasties. He built Nissanka Latha Mandapaya and few other significant monuments in Polonnaruwa ruling city.
When Kalinga Maga landed in Karainagar in 1,215, ironically, it was Parakrama Pandyan II who reigned in Polonnaruwa. Parakrama Pandyan I was the one who was helped by King Parakramabahu in 1,967 in Madurai.  
Kalinga Maga was a ruthless ruler for Sinhalese. Hinduism was established as the official religion and destroyed most of Buddhist sites throughout. No development project were ever conducted as such. 
In 1,236, Kalinga Maga was expelled from Polonnaruwa to Jaffna by Chandrabhanu, a Thailand king.  Kalinga Maga retreated to Jaffna and established his place in there as the ruler of Jaffna Kingdom until 1,255. 
By this time, the Buddhist kingdom has been shifted to Dambadeniya as a result of these foreign invaders. 
Royal Palace (Vejayanta Pasada)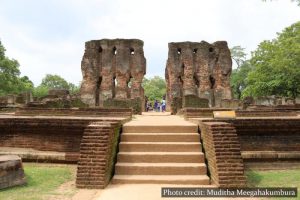 This royal palace was built during the period of King Parakramabahu I.
This palace believed to be five stories high. The Royal Palace is a majestic brick work ruin. The king named it Vejayanta Pasada after the palace of God Sakra.
When you enter the palace you come to a great hall, which was supported by massive thick walls. And this was probably the audience hall. The complex consisted of separate queen chambers, official quarters, parks and baths.
The palace complex was entirely surrounded by a wide rampart provided with watch-towers, turrets, ponds and walks.
The Sacred Quadrangle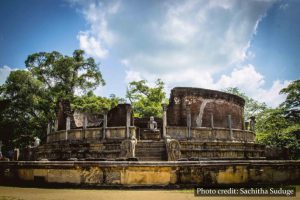 North of the Parakramabahu Palace Complex are Atadage, Vatadage, Hatadage, Nissankalatha Mandapa, Gal Potha, Sathmahal Prasadaya and Thuparama image house.
They are collectively called the Sacred Quadrangle.
Atadage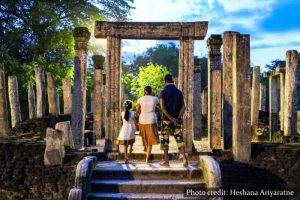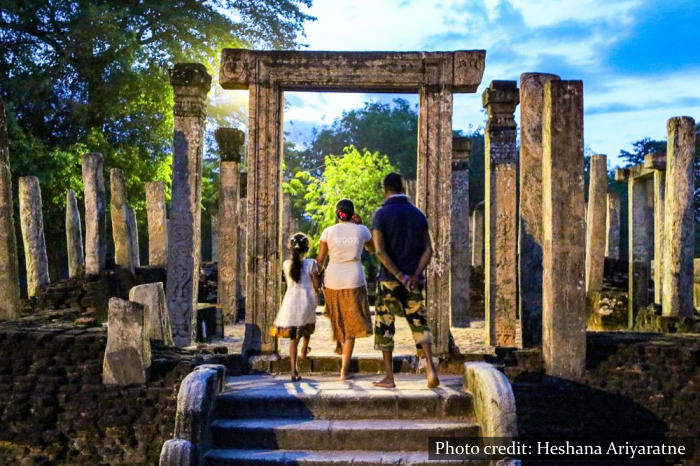 This Atadage was built during the period of Vijayabahu I.
The is the first Tooth Relic Temple in Polonnaruwa. Atadage means the House of eight relics. What remains today are 54 stone pillars which once supported the upper floor where the relic was placed.
There are inscriptions carved on many of the pillars. There is also an inscription in Tamil. It asks Tamil Guards of South India to protect the relic.
A Buddha statue, almost 3m high, stands near the end of the temple.
Vatadage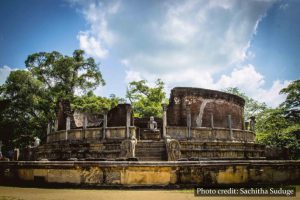 Vatadage was built during period of King Parakramabahu I. 
Vatadage means encircled. At the upper level of the middle of Vatadage is a shrine. It once held the tooth of Lord Buddha. It is surrounded by four Buddha statues that are seated around it.
At the entrance, the foot of the second stairwell has the most perfect moonstone of Polonnaruwa era.
Hatadage
The Hatadage was built during the period of King Nissankamalla.
The Hatadage hosted The Tooth Relic Temple. One can observe inscriptions by Nissankamalla himself on the outer wall and the first chamber.
A staircase can still be seen. However.,there are no remains of the upper floor.
Nissanka Latha Mandapaya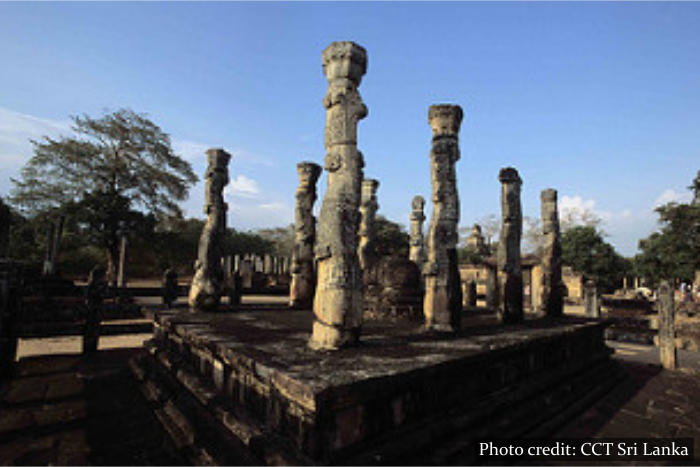 The mandapaya was built during the period of King Nissankamalla.
Its granite works are remarkable. Instead of straight pillars we get flowered curvy pillars. The Latha Mandapaya means, literally translation of it, elegant stage.  
It said the mandapya had a timber roof, which housed a small Sthupaya.
Gal Potha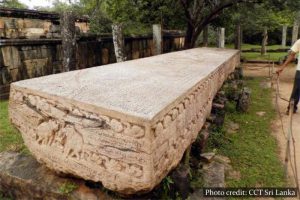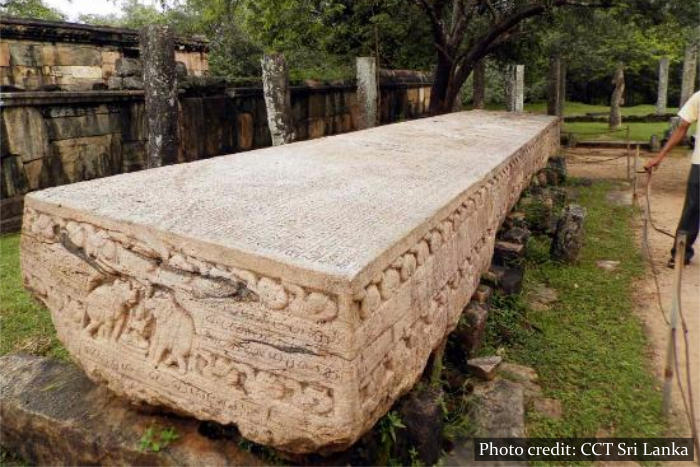 This is of King Nissankamalla.
This stone slab known as Gal Potha (Book) measures about 8m in length and 1.2m in width.  
This stone describes the work of King Nissankamalla and his ties to the rest of the world. As we know, he did not have any ties with rest of the world. He only had 9 years of reign and it seems anyone with some valour could have being the King of Polonnaruwa at that time. 
On the side of the stone there are two elephants showering the Goddess Lakshmi with water.
Sathmahal Prasada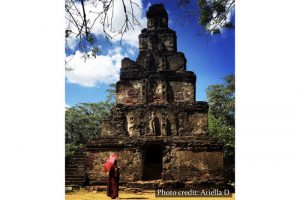 This building is one of its kind. There are three buildings like these in Sri Lanka. And the other two are in Anuradhapura.  
Most says its architecture takes the shape of  ancient Cambodian or Siam.
This is a great example, from the view point of ours, that the period after Parakramabahu was such a chaos - read the section on Kalinga Magha above - and rulers from South India and even one guy from Thailand tried their luck in Polonnaruwa. 
Thuparama Pilimage (Image House)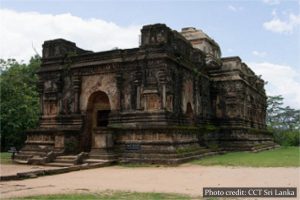 The builder of this magnificent building is unknown.
Over 900 years this building has survived remarkably.   
The walls of this building are about 7 feet thick and inside a large seating Buddha statue has been kept.
Nothings remain of this statue today. It is said that the eyes of this Buddha statue was embedded with precious stones and the windows were designed in such a manner the sunlight would reflect on these stones and light the image house.
Alahana Pirivena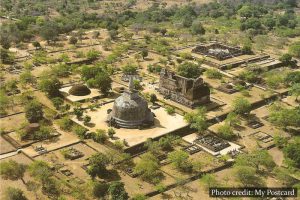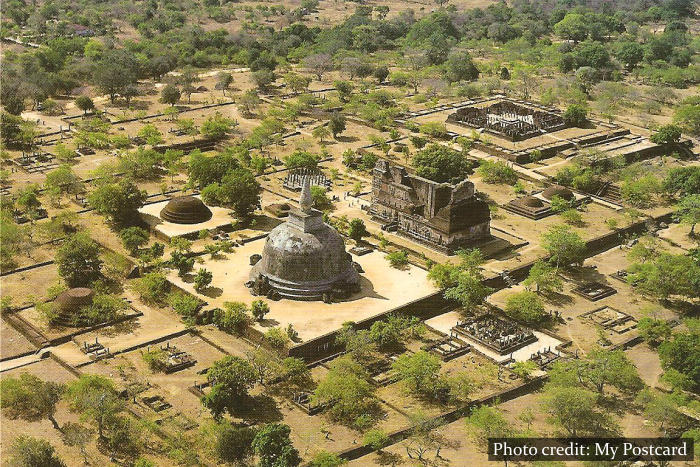 This educational monastic complex was founded by King Parakramabahu I.
The Kiri Vehera, Lankathilaka image house, Baddhasima Prasada, hospital complex, and Gal Viharaya are part of this Monastery.
This is the religious center piece of King Parakramabahu who reestablished the integrity of Theravada Buddhism in the country. 
Kirivehara Sthupaya of Alahana Pirivena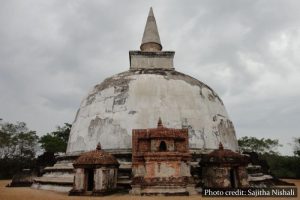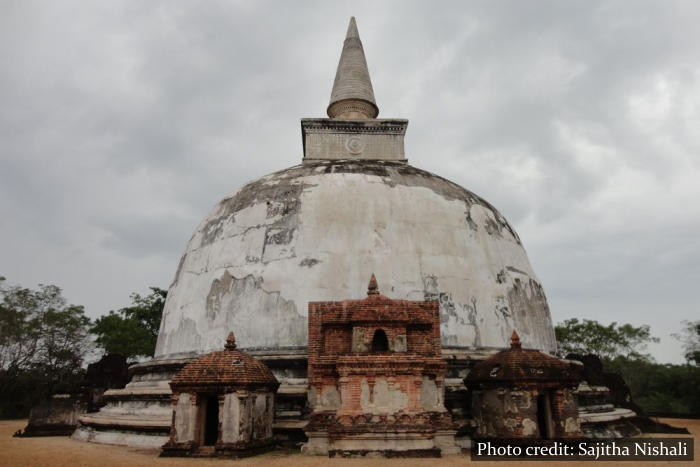 The Kirivehara Sthupaya was built by King Parakramabahu I.
The Kirivehara Sthupaya remains the only monument that displays the different features of a sthupaya such as the triple berm, dome, square tee, deity's enclosure and the umbrella cone known as the Kothkaralla.
The first Archaeological commissioner H.C.P. Bell cleared a tunnel that had been dug by treasure hunters that led into the dome and examined two relic chambers that had already been ransacked.
The Chapter House of Alahana Pirivena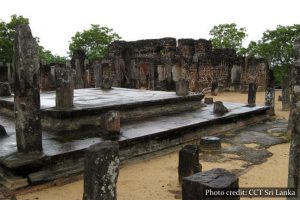 This chapter house was built by King Parakramabahu I. 
The chapter house is called Baddhasima Prasada 0r Uposathagara.
It was initially 12 stories high. This grand monument was built for Buddhist monks and for their activities. The purpose of this building was as same as the Lovamaha Prasadaya in Anuradhapura. 
The monks who congregated for rehearsing the code of discipline were provided with all requirements of accommodation within the premises.
Lankathilaka Image house of Alahana Pirivena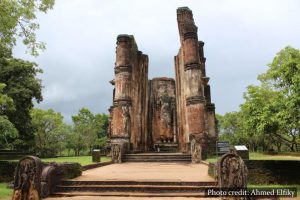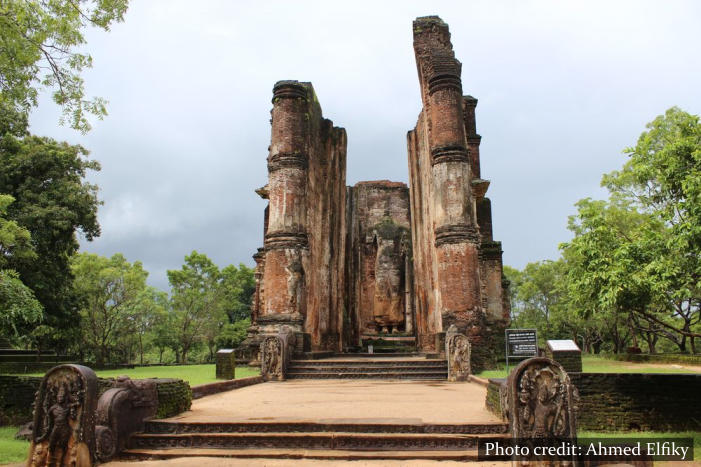 The Lankathilaka Image house of the Alahana Pirivena was established by King Parakrambahu I.
This is a massive brick building that was originally believed to be five stories high which has two gigantic columns that mark its entrance.
The standing Buddha statue inside of it is 40ft high.
Gal Viharaya of Alahana Pirivena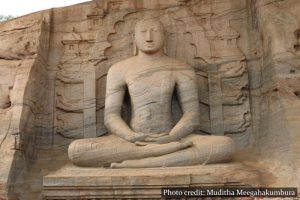 Gal Viharaya is a construction of King Parakramabahu I.
Gal Viharaya or Rock Shrine is a group of fantastic rock sculptures that lies to the North of the Alahana Pirivena. This is the ancient Uttararama where Buddha is seen in all three positions, seated, standing and recumbent.
These statues are the largely intact and very impressive! 
Hospital of Alahana Pirivena
This is an oblong building with a courtyard in the center and rooms all around.
It reveals many aspects of the ancient methods of treating patients. For example, the medicine trough that was found in the Southern corner room is in the shape of a human body and can still be seen at the hospital premises.
Several medical and surgical instruments have also been discovered from the site and are displayed at the Central Cultural Fund museum in Polonnaruwa.
Lotus Pond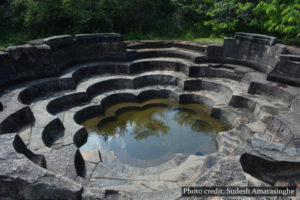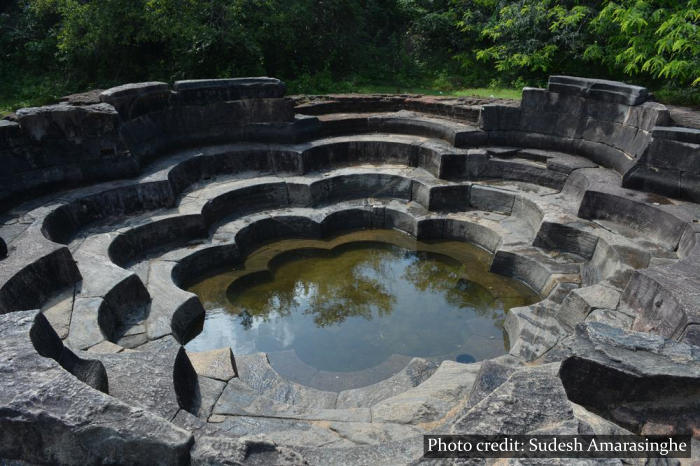 This is a unique stone bath in the shape of lotus.
Its elegantly designed tiers, like the petals of the lotus flower, provides seating.
Underground clay pipelines had been created which was used for filling and emptying the pond.
This small pond is remarkable work of ancient craftsmanship of granite work which resides among the ancient wonders like in Puma Punku in Bolivia. 
Thivanka Pilimage (Image House)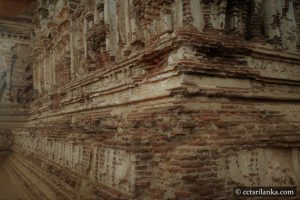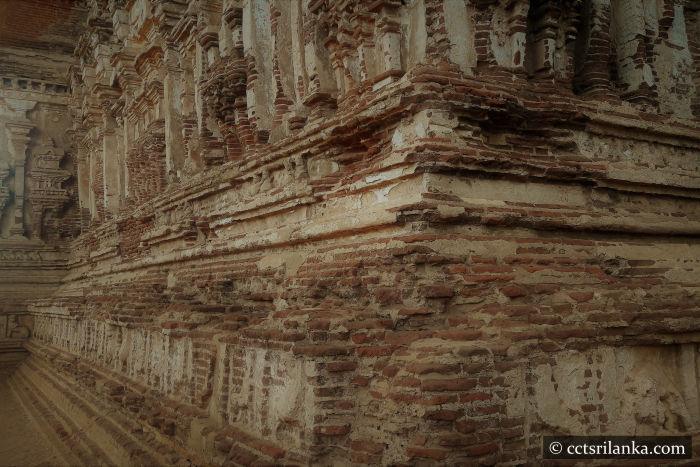 Thivanka Pilimage was built by King Parakramabahu I. 
This image house was a part of Jethavanarama Complex. It gets its name from three large images of Buddha, which have been curved in 3 places. 'Thi' means three.  'Vanka' means curved in Pali language. These Buddhist statues are about 8 meters in height. 
The whole building is 133 feet long and 67.6 feet wide. The walls are 7-12 feet thick making the internal size of the building much smaller.
The inside walls had been decorated with frescoes showing the Jataka Stories (prior births of Buddha before enlightenment). Some colorful drawings can still be seen on the areas where masonry is intact. 
Rankot Vehera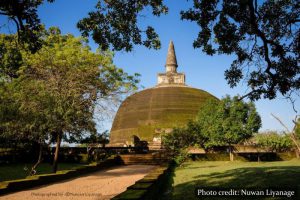 Rankot Vehera was built by King Nissankamalla.
By the entrance of the Sthupaya there is a stone seat with inscriptions by Nissankamalla which explains that the king sat there and witnessed the construction of the dagaba.
There is a stone pave way that leads to the compound and gateways that open at the cardinal points.
Shiva Devala 1
Located at the main entrance of the Polonnaruwa quadrangle.
Shiva Devala 2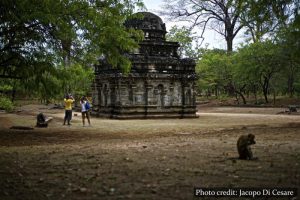 This Shiva devalays was built by Chola King. 
It was built in the name of his Queen.
Tamil inscriptions could be seen on the south wall of this building. 
Naipena (Cobra) Vihara
To be completed...
The Statue of King Parakramabahu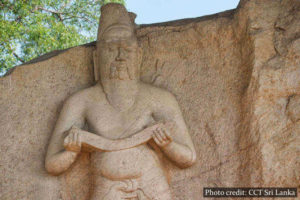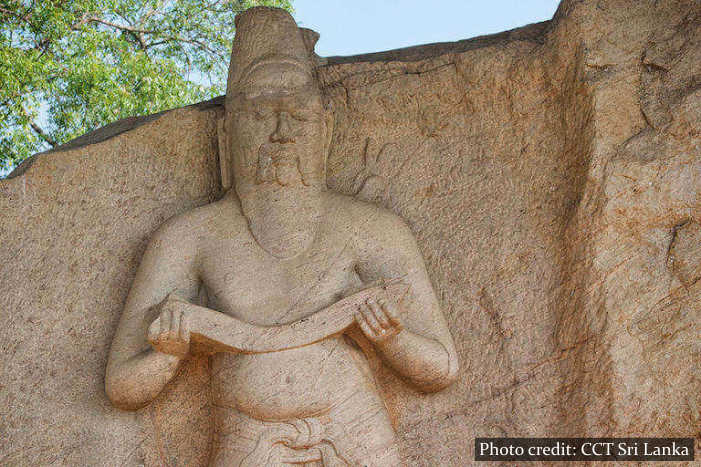 This granite statue is 11.5 feets in height.
Widely belief this is of the king Parakramabahu but some argues that this is of the Indian priest name Kapila of Pulasthi.
Interestingly Ravana was A grandson of Pulastya. Ravana's father was Visravas. 
Remember in the above writing, Polonnaruwa was also called Pulasthipura at some point in history. Pulastya was one of the ten Prajapati or mind-born sons of Brahma. And he was one of the Saptarishis (Seven Great Sages Rishi) in the first Manvantara. 
This is a quite unique statue shows level of craftsmanship at Polonnaruwa era.
Parakrama Samudraya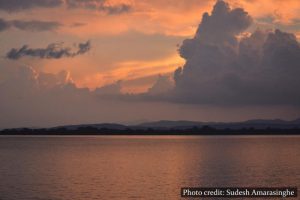 Parakrama Samudraya (sea) was built during the period of King Parakramabahu I.
This Samudra was originally joined with five other tanks. There were called, Thopa Vawa, Eramudu Vewa (Katu Vewa), Dumbuthulu Vewa, Kalahagala Vewa and Bhu Vewa. 
A temporary dam construction which was to stop water flowing from Thopa Vawa to the Bhu Vewa now has became a permanent road. This road has isolated Kalahagala Vewa and Bhu Vewa from the Parakrama Samudraya.
The dam is 14 kms in length and 40 feets in height. The body of water covers 5350 acres with an average depth of 25 feets. Over 18000 acres of paddy land is cultivated from the water of this reservoir.
Poth Gul Viharaya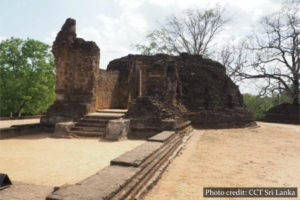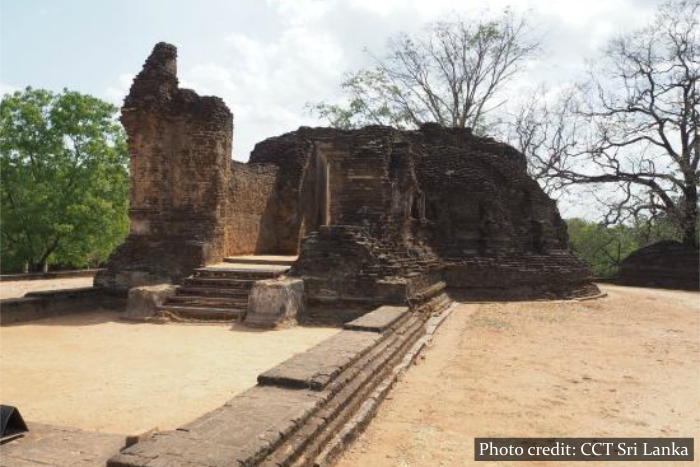 This Poth Gul Vihara complex is thought to be built by King Parakramabahu I.
This is a Buddhist library complex. Ruins of nine buildings are visible today. Those are believed to be the places of where the Buddhist writings were studied and monks were resided. 
Even without the roof some fragments of paintings have survived almost a millennia on the walls under this unforgiving nature.
The Palace of Nissankamala
To be completed...
Museum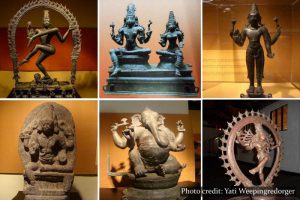 To be completed...
Our Archaeological and History experts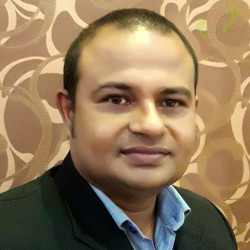 Name - Thusitha Wagalawatta (Dr. rer. nat).
Education - PHD from Freie Universität Berlin.
Work experience - Research Assistant at Department of Archaeology, University lecturer and a writer.
Field experience - Thusitha has worked over 25 excavation sites in management capacities since 2001.