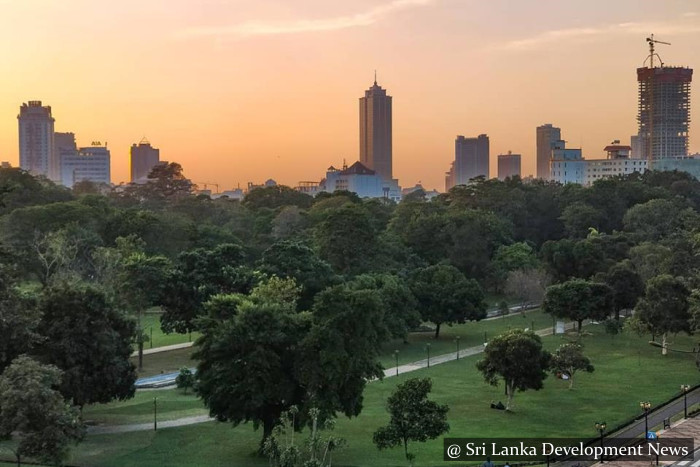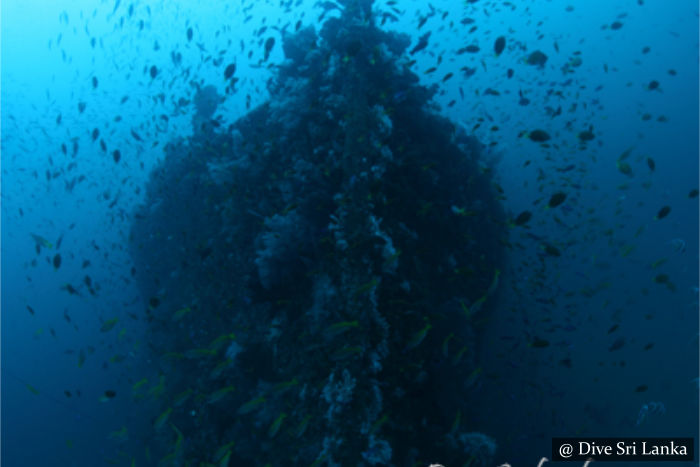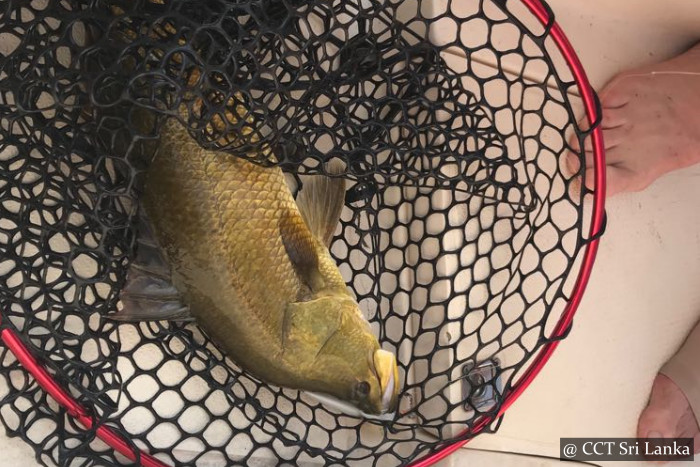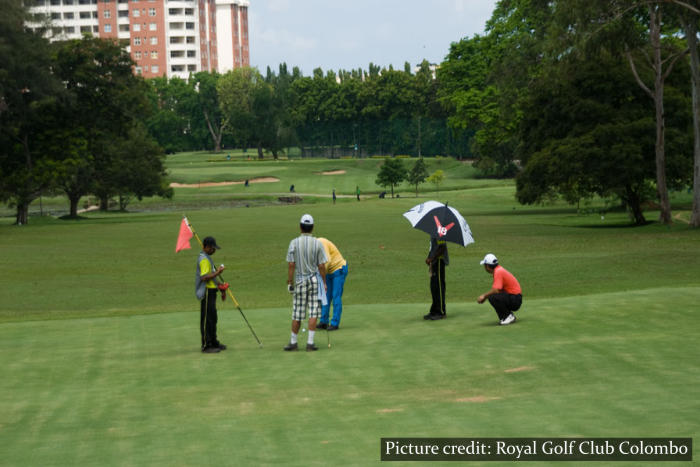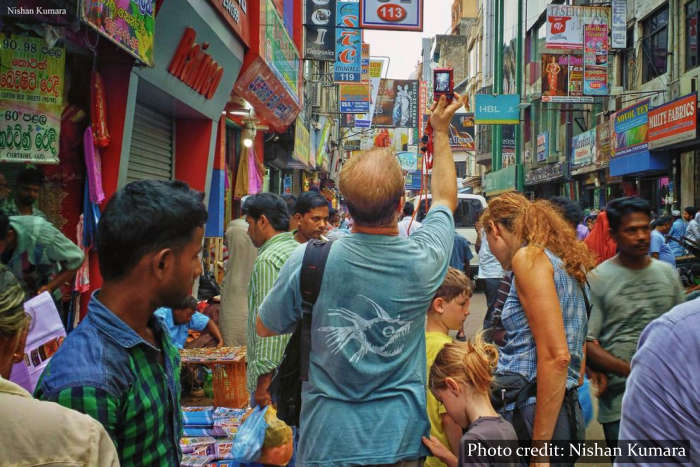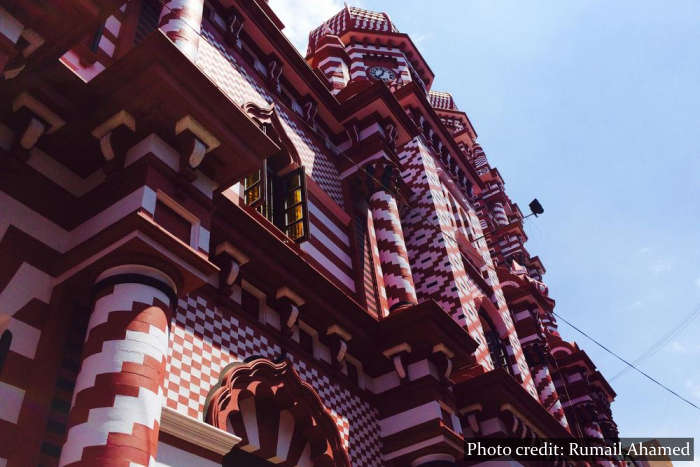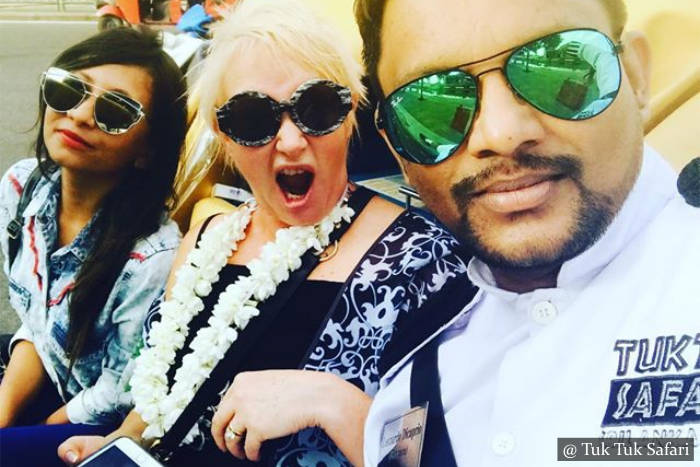 cctsrilanka.com-Colombo-1
cctsrilanka.com-Colombo-Scuba-Dive-SS-Worcestershire-2
cctsrilanka.com-Bolgoda-Lake-Colombo-Fishing-Barramundi-4
Royal Colombo Golf Club - Cross Country Travels Sri Lanka
cctsrilanka.com-Colombo-Pita-Kotuva-Petta
cctsrilanka.com-Colombo-Red-Mosque
cctsrilanka.Colombo.TukTukSafari-6
Intro
This city tour lasts upto 8-10 hours.
You will be picked you up and drop off after the excursion finishes. The route will be adjusted according to where you are picked up. You decide what you are interested in to explore within the route. Our guide will always assist you.
On Google Map, you could clearly see the route to destination, local excursions and tourist interests. To have a clear view click "

 " and then un-click " 

 " irrelevant layers. We constantly update our site with all those interesting facts.
Terms and conditions
Booking : Book online, call us or drop us an email.
Price : The price may slightly go up or down at the time of booking.
Payment : Full payment is settled prior starting the tour/excursion.
Days of the tour or the hours of excursion : The tour or the excursion is completed within mentioned time.
Per hour vehicle detention fee : 3 USD - Tuk Tuk / 5 USD Standard car & van
Weather : If weather conditions are unfavourable activities will be adjusted accordingly.
Today's Marine Forecast : Sri Lanka Department of Meteorology / Buoyweather
Transportation to a destination : Click Here to reserve with an excursion.
Refund : Refund will be determined after reducing third party's and our costs.
About this city tour
Best season : All year around
Available : Daily
Arranging time needed : 1 hrs
Hottest month :
Starting point : 5 kms within Colombo center
Touring time : Upto 8-10 hrs
Total Kms driven : 120 app
Route :  The route is flexible. Usually covers Dutch museum, Fort railway station, Old parliament, Galle Face, Independent Squire & Arcade, Nelum Pokuna and National museum, BMICH & Dehiwala Zoo. (can be seen on google map)
Restrictions : No flash photography of ancient paintings. Cover your knees and shoulders before enter any temple. Do not leave plastics behind / Please do not feed animals.
Price includes : Pick up and drop off / Guide / All Gov taxs.
Not included : Meals / Entrance tickets / Child seat (ask in advance to arrange with 5 USD)
Feedback us : Our drivers and service providers are advised not to promote any other activities or nudge you for shopping. Please leave your feedback on Google.
Optional : A well-spoken local animal expert / historian could be arranged with an additional fee.
You may bring : Hat and sun glass / Sun creams / Camera
---
We love holiday planning!
Pita Kotuva (Outer fort or Petta)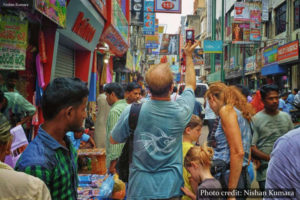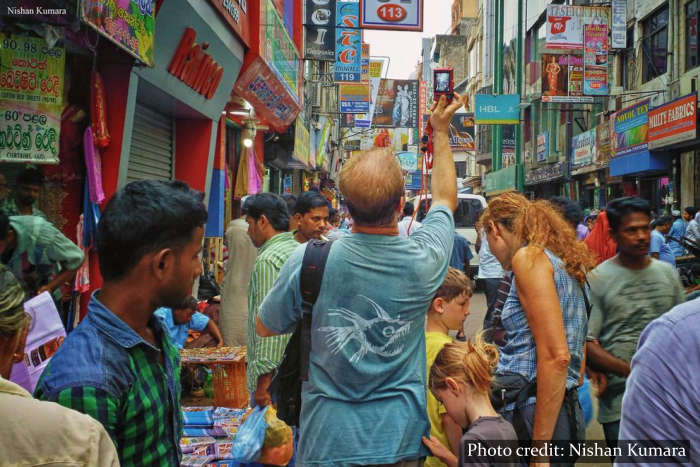 If you are not afraid to walk in a busy and crowded street with full of locals go for a walk in Maliban Street in Petta. Or we could accompany you if you like.
Every single thing you can imagine of buying is sold in this small area for whole sale prices. This market area is about a half of squire kilometre. Its roads are narrower than most alleyways you come across.
But what you encounter is big lorries parked in the right middle of roads to load or unload goods. Hard working men are always busy pushing their carts with heavy loads. And 'Nattamies' are always rushing to unload their stuff to a lorry or a van is a very common sight. We feel like if these local vendors do not have an idea of personal space or merchant space.
We heard from Dr. K.D. Paranavitana that this Outer Fort area, Petta, was first built by the Dutch first to accommodate their civil and military servicemen.
Prepare for muddy roads. Enter the Maliban Street from 4th Cross Street and enjoy it!
Bo roots, Manning Market and Floating Market in Pita Kotuwa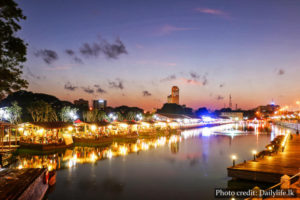 If you are a keen observer who enjoys minor things, when you walk alone the Olcortt Mawatha from Colombo main railway station towards Police Headquarters, you will see majestic roots of Bo-trees along the road. The way they have grown alone city walls are fascinating! Hardly anyone notice them but we find them amazing! One of those street vendors we talked to told us that those Bo-Trees were all alone the Olcortt Mawatha before.
Turn right in to Manning Market when you have passed some of those phone shops. And now you are in Manning Market. This vegetable market sets prices for Sri Lankan vegetables everyday. Even thou some part of the market could be better smelling it is an unique place to have a walk.
By the opposite side of this it is a newly built Floating market. You will find a restaurant in the middle of the water and it is not a bad place to enjoy your lunch or enjoy your afternoon tea!
Dutch Museum in Prince Street in Pita Kotuva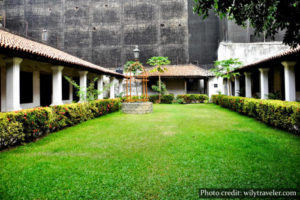 When you enter the Prince Street in Pita Kotuva you encounter this two storied large building built by Thomas Van Rhee, The Dutch Governor of Sri Lanka (1692- 1697)
as his official residence. It reflects the features of a 17th century Dutch Urban houses.
During the British period in 1796 this building was used as an arms store of an army hospital, then a police training centre, then as the Pita Kotuva post office and telecommunication centre.
This building is now preserved by a special preservation committee with the assistance of Netherlands government since 1977. It is opened for the public as Dutch museum by the Department of National Museums.
This museum displays over 3000 museum objects related to the Dutch period. Dutch ruled coastal areas of Sri Lanka between 1658 to 1796.
Open hours - Closed for renovation as on 9 Nov 2019
Tuesday to Saturday
8.00 to 16.30 hrs
Mosques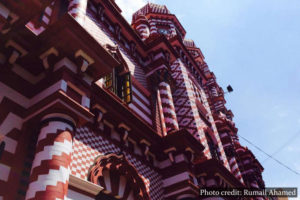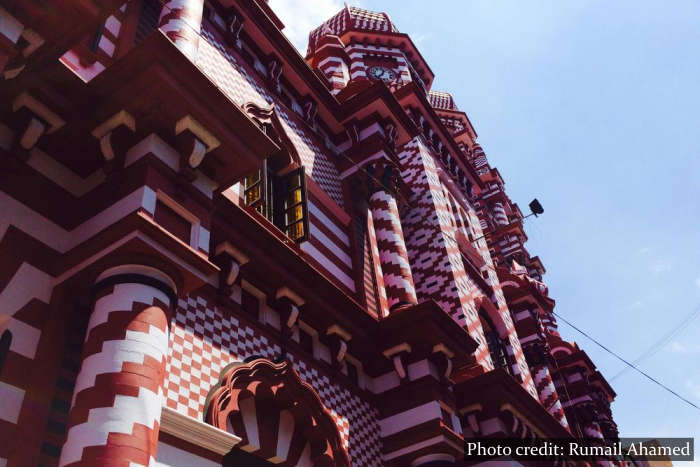 There are several mosques scattered around the city of Colombo. The notable one is being the Grand Mosque in Colombo 12.
And the others are Dawatagaha Jumma Masjid Shrine Colombo 7 and Jami-ul-Alfar, Red mosque located in Colombo 11.
Open hours - from 14.00 hrs
---
Historic St Peter's Church in Colombo Fort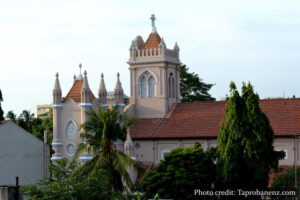 This Church was originally a part of the Dutch Governor's residence. It was consecrate in 1821. You can reach the church along the arcade on the north side of the Grand Oriental Hotel. Inside it has an original wood ceiling and myriad plaques attesting to its work with seamen through the years.
The St Lucia's Cathedral in Kotahena built in 1873 is the oldest and largest parish cathedral in Sri Lanka though.
Colombo has several Hindu Kovils with colourful ornate statues and shrines. The most popular one being the Old and New Kathiresan Kovils in Pettah.
There also Sri Kailawasanthar Swami Devasthanam behind the Fort Railway Station, and the Vajira Pillayar Kovil (Old Kathiresan Kovil) on Galle Road in Bambalapitiya.
Galle Face Esplanade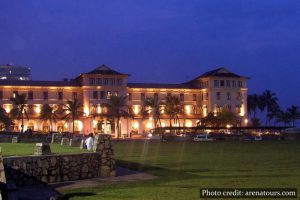 Dr. K.D. Paranavitana states this spacey area was the afternoon get to gather area for Dutch and British. They played Polo or horse riding. In latter part of 1850s the horse riding was banned at Galle Face and the race course was moved to Havelock Race Course.
Today this green area (dry season it is hardly the case) is used by families, friends and lovers as a meeting place. At each late afternoons you could relax, play sports, fly kites, watch waves crash or spot glimpses of ships sailing past i the western sea from at this place.
Viharamahadevi Park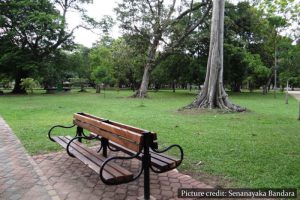 Built during the British rule, this park was originally named the Victoria Park. After the country's independence it was renamed Viharamahadevi Park, in memory of the mother of King Dutugemunu.
Recently this park too has received a nice face lift! Its tree canopies, colourful blooms and water fountains keep everyone cool in Colombo.
Street Art Fair - Southern end of Viharamahadevi park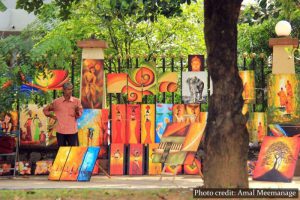 On both sides of this road there are thousands of eye-catching paintings to sell. This stretch of the street is laid on the southern end of Viharamahadevi park.
On the same road you can find The National Art Gallery.
The National Art Gallery is housed in a grand old building just opposite the Viharamahadevi Park. On display here are the paintings and sculptures by eminent
Sri Lankan Painters and sculptors.
Occasional art exhibitions by local artists are held in the two wings of the main gallery and the annual Kala Pola held just outside the Gallery.
We are not happy to promote this Art Gallery due to its ill management and reputation though.
National Museum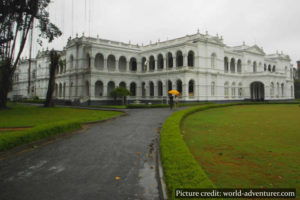 By the then British Governor of Ceylon Sir William Henry Gregory established the National museum in Colombo in 1877. The museum has been designed by J.G. Smither on Italian architectural style.
The Museum has over a hundred thousand antiquities and natural history specimens comprising of archaeological evidence based on Pre and Proto-historic periods. They highlight the aspects such as agriculture, irrigation, trade, language and literature.
Its highlights to us are the rare palm leaf manuscripts, inscriptions, sculptures, arts and crafts, coins and currency, the Royal seat of the last King of Sri Lanka, King Sri Wickrama Rajasinghe, his crown, jacket, jewellery and other royal regalia along with a library of rare books.
The National museum offers guided tours.
At the rear of the National Museum lies the Natural History Museum.
A large collection of stuffed birds and animals, bottled snakes, well preserved flowers, butterflies, insects and other natural objects are of interest.
Open hours
09.00 to 17.00 hrs
Close only on public holiday
---
BMICH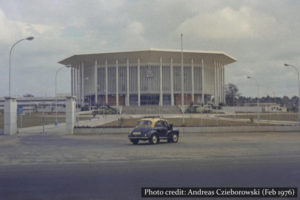 The Bandaranaike Memorial Conference Hall is an up-to-date conference venue.
This building is a gift from the Government of the People's Republic of China as a
mark of esteem for the late Prime Minister S.W.R.D. Bandaranaike and his ideals. He was assassinated in 1959 by a person dressed as a Buddhist monk.
His stance on American and western policies have made him friends and foes. One CIA officer, Philip Agree, has, it seems, said the assassination of SWRD was one of the cheapest operations conducted by Central Intelligent Agency of USA.
This building was built from 1956 to 1959. In side here is the Bandaranayake Museum. It contains photographs, objects and documents of the late Prime Minister.
The Royal Colombo Golf Club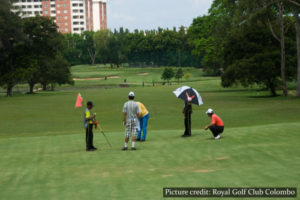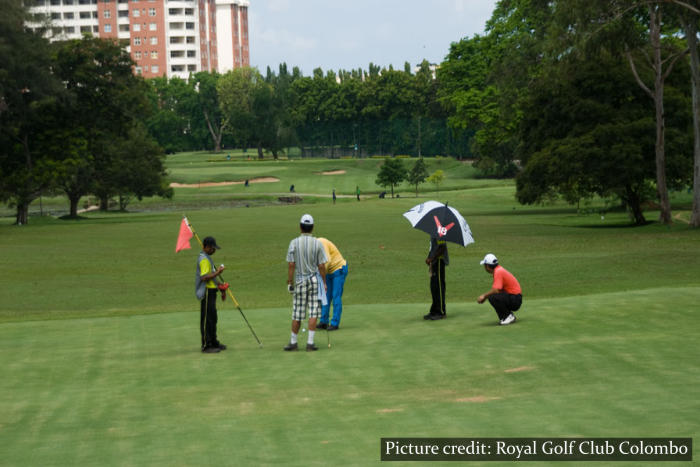 This Golf Club was built in 1896 for the Brits who were playing golf in Gall Face Esplanade. Its 96 acre land came from Sir Charles Henry de Soysa, a Ceylonese philanthropist. This course is 18-hole par 71 course. And this is the only golf course to acquire Royal statues in Sri Lanka.
The active railway line that travels across the golf course is a spectacular view, we were told.
Kelaniya Raja Maha Viharaya - Royal Temple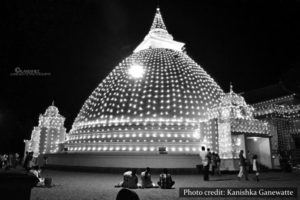 When the Lord Buddha visited Sri Lanka for third time he placed his foot at this place. This indecent has happened on 519 or 520 BC, historical records asserts. For that reason this place is a celebrated temple.
Kelaniya Raja Maha Viharaya spread out on 10 acres of land bordered by the Kelani River.
Found here is a 2500 year old Dagabo and relic chamber believed to hold the throne decked with gold and jewels on which the Buddha sat to preach. Also enshrined here is the Buddha's hair & utensils used by him.
Situated just seven miles from the city, it is famous for reclining Buddha image and paintings too which depict the important incidents of the Buddha's life and Buddhism.
Temple hosts Duruthu (January) Maha Perehera in every year to commemorate Lord Buddha's visit to this place.
Dehiwala Zoo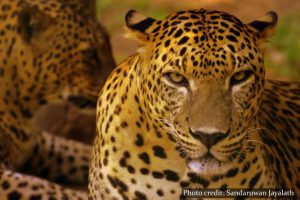 Sri Lanka's leading zoological gardens situated just 11km from the capital city of Colombo is one of the finest in the region. Its well laid out garden spread across 11 acres of land is home to thousands of species of birds, mammals, amphibians, reptiles and marine invertebrates representing Asian, African and South American wildlife.
In this zoo, there are many species endemic to Sri Lanka like the local leopard, monkeys, sloth bear, fishing cats and a variety of birds.
The Elephant circus is the most looked forward event. When the gaily dressed Elephants parade and perform to the enthusiastic crowds of children and grown-ups.
Open hours
Everyday - 8.15 to 17.15 hrs
Can stay inside the zoo until 18.00 hrs.
---
Bellanwila Raja Maha Viharaya - Royal Temple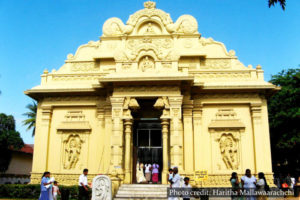 The Bellanwila Raja Maha Viharaya's history is connected to Kotte era when the King Parakramabahu VI (1412-1467) was reigning the united country.
It is believed that the present sacred Bo-tree is in fact one of the thirty saplings borne from the fruits of the sacred bo-tree located in Anuradhapura.
The Annual Esela (Aug and Sep) Perehera is a significant event in the temple's calendar.