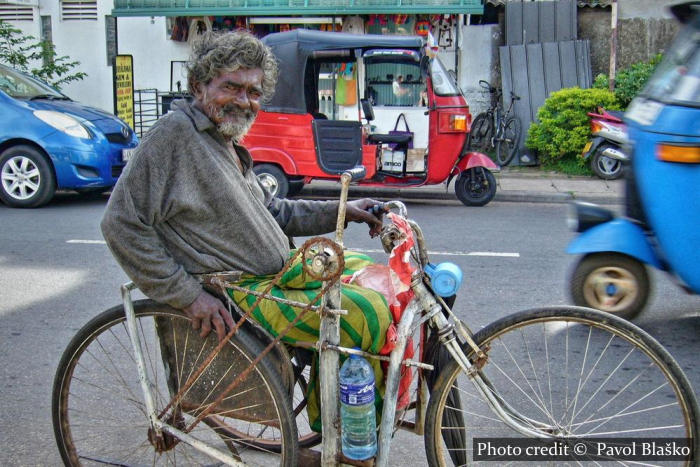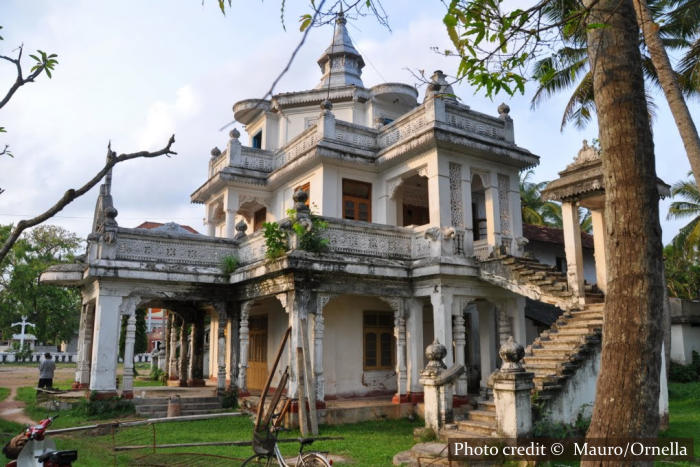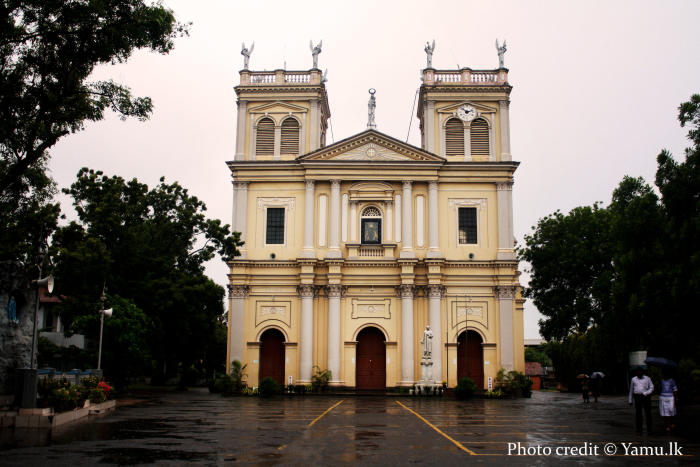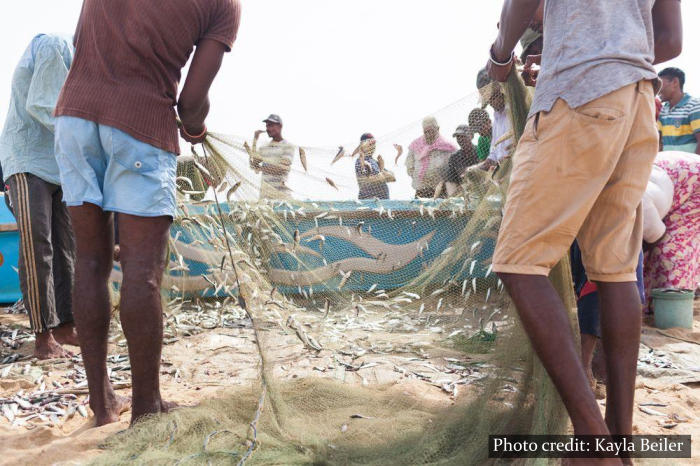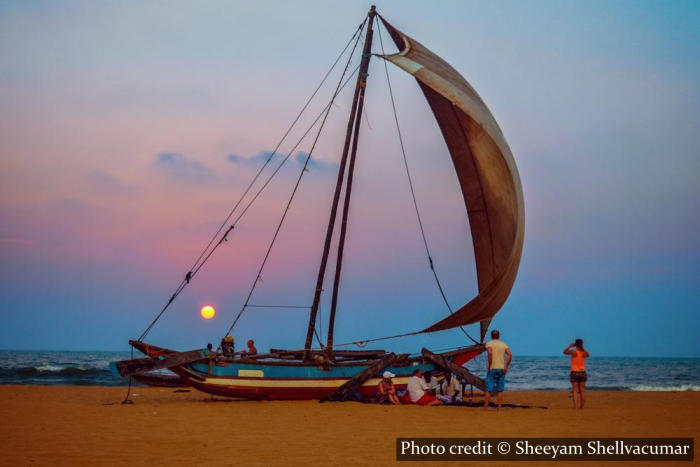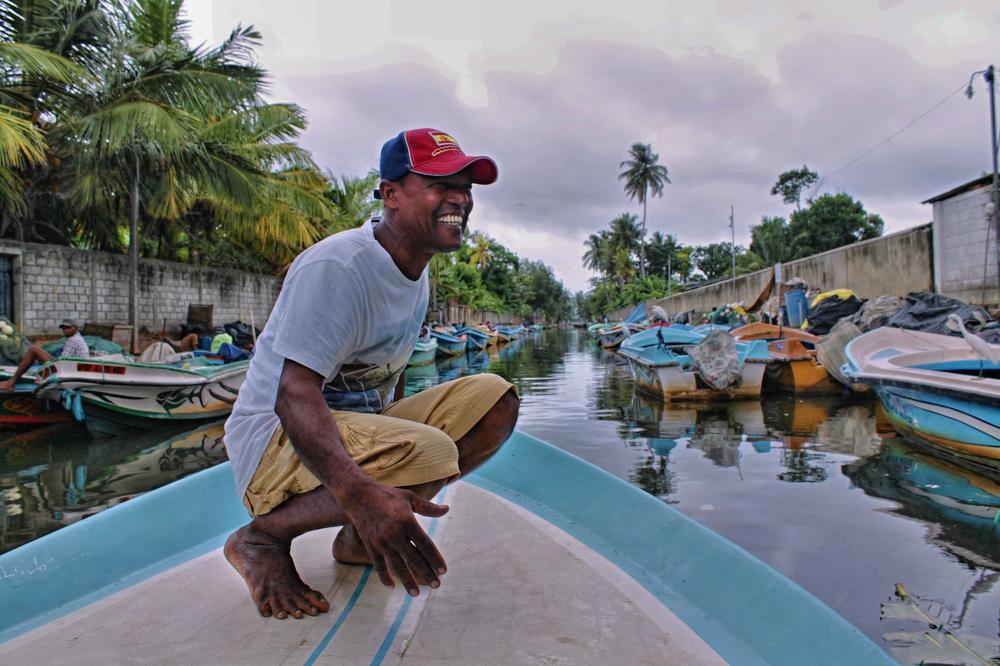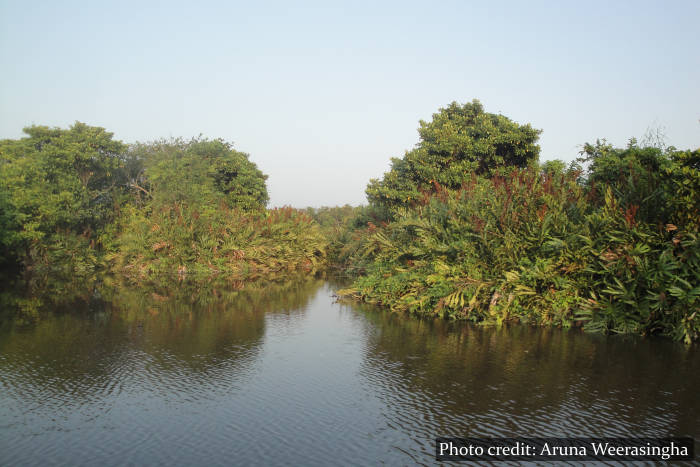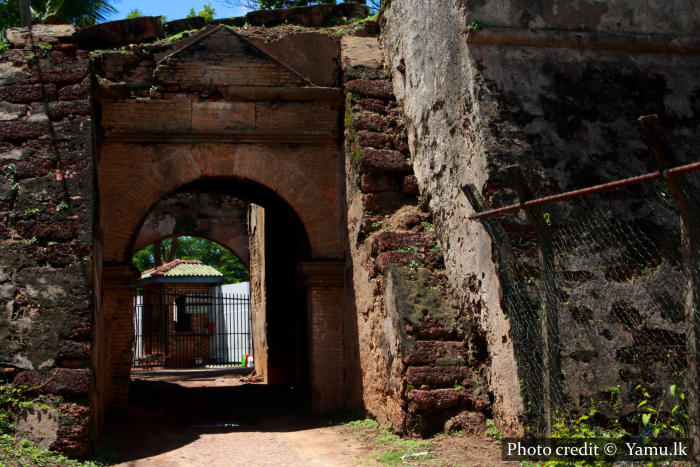 High Street Negombo Sri Lanka
Old Angurukaramulla Temple Negombo Sri Lanka
cctsrilanka.com.Negombo.St.Mary'sChurch
cctsrilanka.com.Negombo.Dry.Fish
Hamilton Canal Negombo Sri Lanka
Boat safaris Muthurajawela Marsh Sri Lanka
Dutch Fort Negombo Sri Lanka
intro
Walk in the city, observe its colonial Churches and historic, but poorly maintained, Chanel system. Enjoy the beach side while you enjoy your lunch. Visit a Buddhist temple. It takes only 25 minutes of driving to reach Negombo beach from the Airport. Dotted with few five star hotels and world famous coffee and tea shops Negombo beach side is full of tourist attractions. A great sushi shop and few luxury spa centers are also in there too! In this place you could do your last minutes shopping also.
Like most of other unplanned-Sri Lankan-cities this city too is chaotic. But it could also be very refreshing. And walking around the city is exactly what you may need before you catching up with your next flight! Negombo hosts hustling and bustling large fish market - except Sundays. We recommend you visit it early morning around 6 AM. If you still have not been to a Buddhist Temple in Sri Lanka then this might be the last chance to take a look at Agurukaramulla Old Temple.
On Google Map, you could clearly see the route to destination, local excursions and tourist interests. To have a clear view click "

 " and then un-click " 

 " irrelevant layers. We constantly update our site with all those interesting facts.
Terms and conditions
Booking : Book online, call us or drop us an email.
Price : The price may slightly go up or down at the time of booking.
Payment : Full payment is settled prior starting the tour/excursion.
Days of the tour or the hours of excursion : The tour or the excursion is completed within mentioned time.
Per hour vehicle detention fee : 3 USD - Tuk Tuk / 5 USD Standard car & van
Weather : If weather conditions are unfavourable activities will be adjusted accordingly.
Today's Marine Forecast : Sri Lanka Department of Meteorology / Buoyweather
Transportation to a destination : Click Here to reserve with an excursion.
Refund : Refund will be determined after reducing third party's and our costs.
About this city tour
Best season : All year around
Available : Daily
Arranging time needed : 1 hrs
Hottest month :
Best time to start : Early mornings & afternoons
Starting point : BI Airport & Negombo area
Whole touring time hrs : 5-6
Total Kms driven : 50
Restrictions : Do not touch corals please. Be a responsible and ethical snorkeler and diver. No flash photography of ancient paintings. Cover your knees and shoulders before enter any temple. Do not leave plastics behind / Please do not feed animals.
Basic price includes : Transportation / Guiding while cruise / Visit places as you like / Gov tax.
Child price : Aged 6 - 12 is considered a child / Aged 0 - 6 is free of charge.
Feedback us : Our drivers and service providers are advised not to promote any other activities or nudge you for shopping. Please leave your feedback on Google.
Optional : A well-spoken local animal expert / historian could be arranged with an additional fee.
You may bring : Hat and sun glass / Sun cream / Camera
---
We love holiday planning!
Negombo Lagoon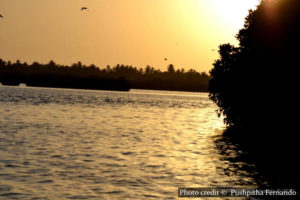 What makes Negombo Negombo is its large Lagoon and Sea. The lagoon itself consists of about 33.4 square kilometers. This lagoon is much smaller when compared with Jaffna complex, about 441 sq km, for example.
The main inland water to the lagoon comes from Dandugam Oya and Ja-ela River. While lagoon connects to Muthurajawela marshland from south, small water streams to further south connects the lagoon to Kalani River. From north, small water streams connect the lagoon to Maha Oya.
Large mad crab and prawns of Negombo used to be an often found delicacy. These days larger mad crabs, 2-3 KGs in size, hardly come by. While the lagoon area has few issues surrounding it, it is also rich with fantastic aqua lives and mangroves. We organise early morning and evening sailing trips in the lagoon.
Negombo Fish Market - Lellama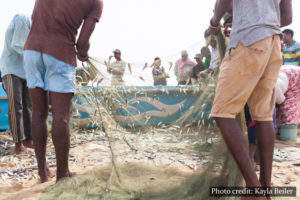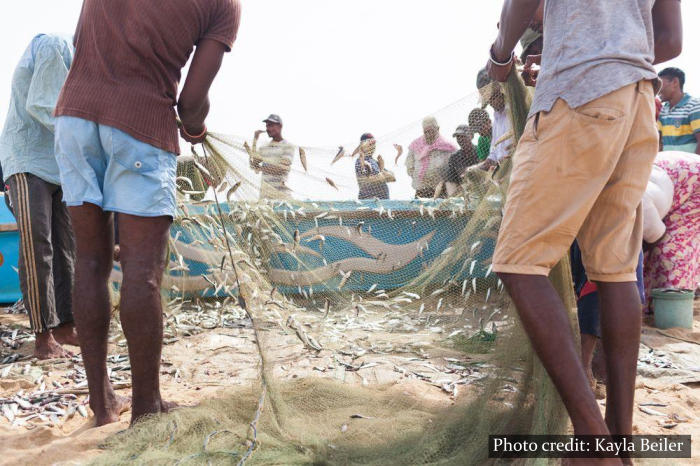 Negombo is actually a large fishing village! About thousands of boats leave its fishing harbour to fish everyday. So, its fish market is frequented by locals everyday, every mornings - except Sundays. And if you are an early birder, or if you have an early arrival, and you do not care about the overwhelming smell of fish, you will enjoy this early morning seen, around 5.30 AM, fishermen selling their stock on wholesale prices. Buyers who buy fresh fish and large quantities come there this time. So this place is hustling and bustling place all morning! 
Petty Fish Market - Then there is another perry fish market next to Negombo prison, about a kilometer away from the big market. This marketplace has about 300 small huts operating from Monday to Saturday. This place tend to do business until 9 AM. Visit here to take a glimpse of fresh fish available for the day. Notice at the entrance to the fish market there is a statue of St. Peter. St Peter is considered the Patron saint of fishermen. Behind this fish market lies rows and rows of mats with drying fish.
Beach Side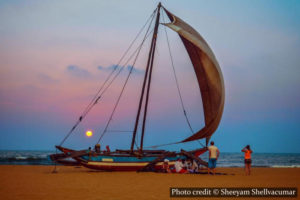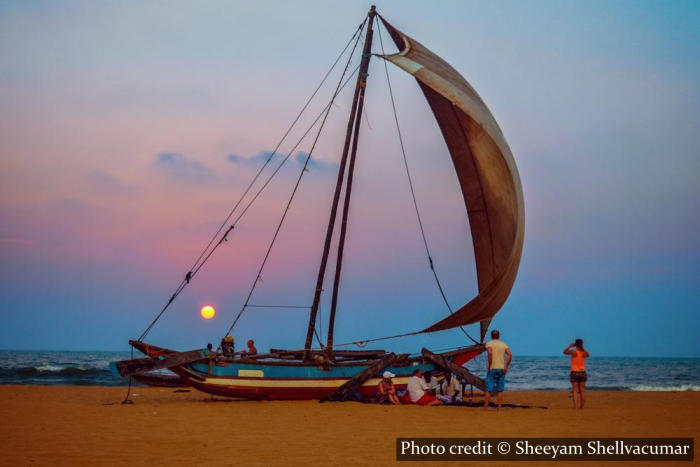 West side of the Lewis and Poruthota roads are full of beautiful and clean beach stretches. Hotel owners try to keep at least their beach stretches clean everyday.
Handful of five star hotels are in this area. Grand spa centers, Sushi bars, coffee shops are all there! This is a good place to do your last minute shopping too!
If you happened to be in the beach side for a weekend you can not miss the large local crowd gathered to enjoy the beach. It is a common site. Sri Lankan ladies dip themselves in the sea fully dressed. Sunset is an amazing view from the beach side.
Angurukaramulla Temple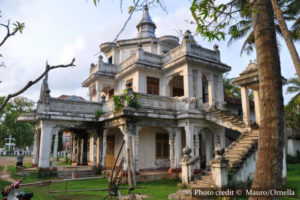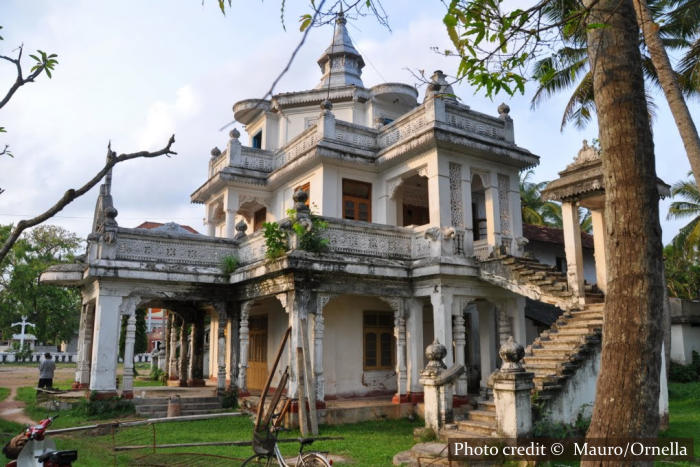 This temple was built in 1868. It derived its name as it was surrounded by a small community that engaged in producing charcoal (anguru) for various industrial purposes.
In the temple's mural chamber decorated with statues, arts and wall paintings. A mix of Kandyan period art with the European mural traditions reflect the early stages of the country's temple painting traditions.
Dutch Canal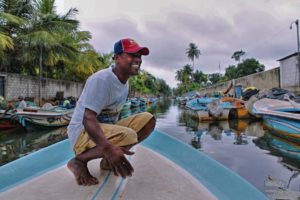 Since Dutch settlers had settled heavily in Negombo area they built this canal towards Maha Oya, north of Negombo. The Brits then connected this with an extensive canal system from Negombo to Colombo and bit beyond.
However, since Kotte Kingdom in fifteenth century these water canals were used to transport goods up and down. Rivers which gush water downstream with inland sand had made heaped up sand bunts at the outlets of sea by nature. These sand bunts gradually cause nearby lowlands to inundate with water. So, there exist a natural canal system between Maha Oya River and Kalani River to the south.
Dutch Fort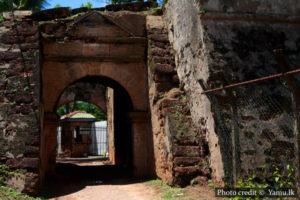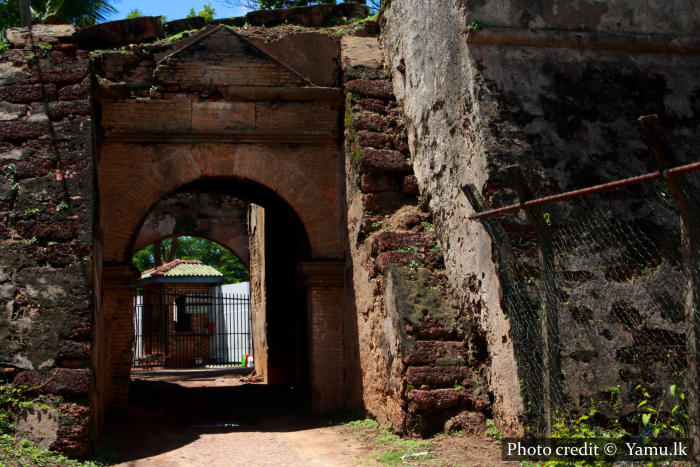 This is what Daniell says about Negombo Fort on TripAdvisor, "Really not much to see here, just a few ruins. If you happen to be walking by take a look otherwise not worth the special trip to see." We too agree. But...
In the year 1600 the Portuguese constructed this fortress in Negombo. One of the main purposes of this fortress was to stop illegal cinnamon shipments out from the lagoon. In 1644 the Dutch captured it from the Portuguese. In 1678 the Dutch made the fortress smaller and brought it to this present location. The fort had traditional characteristics of a typical Dutch fortress with bastions and two entrances. In addition it had a special store to keep cinnamon. In 1796 the English took over the Negombo fortress from the Dutch.
In 1800 the British demolished the fort and constructed a prison instead. As a result only the main entrance of fort constructed by the Dutch in 1678 and a small potion of east wall on either side are remain today. Apart from these the old clock tower and old ammunition store are still there.
Sadly the remaining elements of the fort wall are in a bad state of neglect.
Churches & Hindu Temples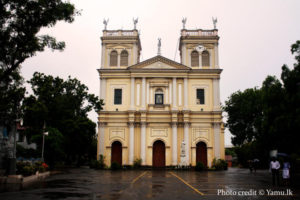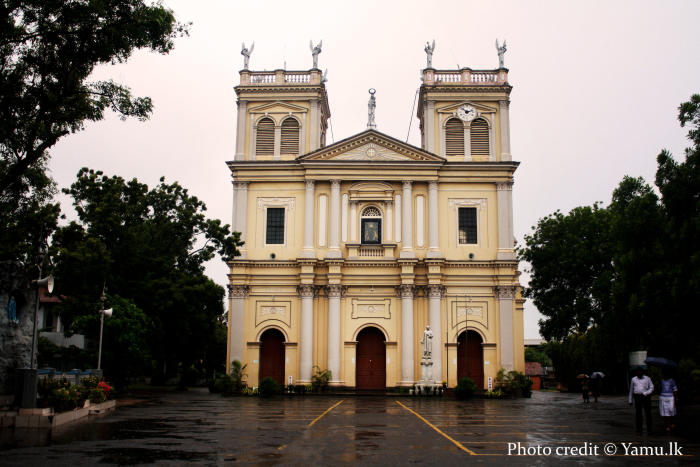 Negombo has few grand Churches and Hindu temples. Negombo is in fact called 'little Rome'. It speaks volumes for the majority Catholic community lives in Negombo. Visit St Peter's Church right middle of the city or St Mary's church after crossing the Dutch canal.
When you walk towards St Mary's church from the city center pass the Dutch canal and then turn right to find a beautiful Hindu temple right end of the road.
High Street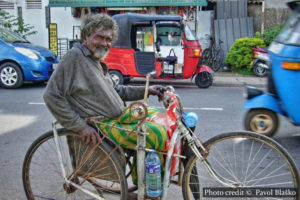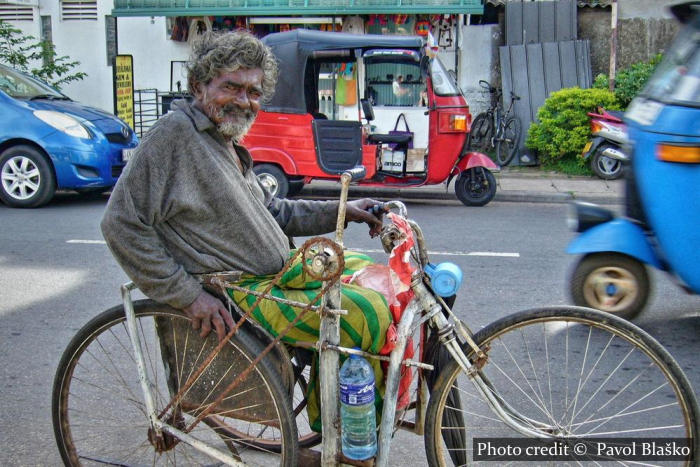 Negombo city also could be a much more orderly city. This city begs for a new face-lift addressing all local issues. After all, however, if you are staying in Negombo over night or two then this city and its main streets will keep you busy for sure!
Gampaha Henarathgoda Garden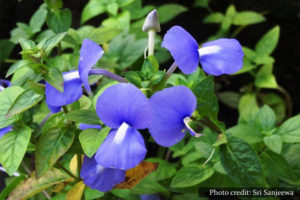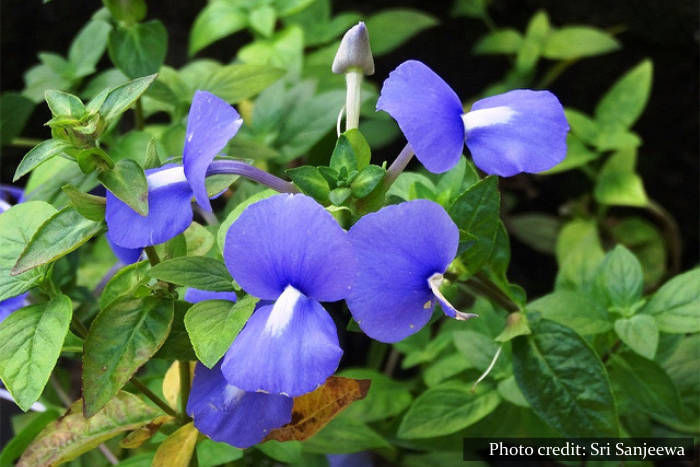 The garden was first initiated in 1870 to explore economical crops in Sri Lanka by the Brits. First ever rubber tree plant was in fact planted in etire South Asia was planted in this place. The rubber plants were brought all the way from Brazil. It is ironic that in 1959 Mr. Che Guevara visited Sri Lanka to observe rubber milk extracting.
Henarathgoda Garden is of 43 acres, which is very small in comparison to Peradeniya Garden - Peradeniya Garden is of 147 acres.
Muthurajawela Sanctuary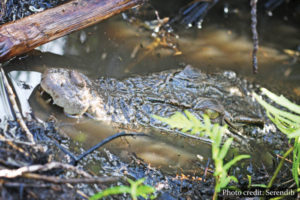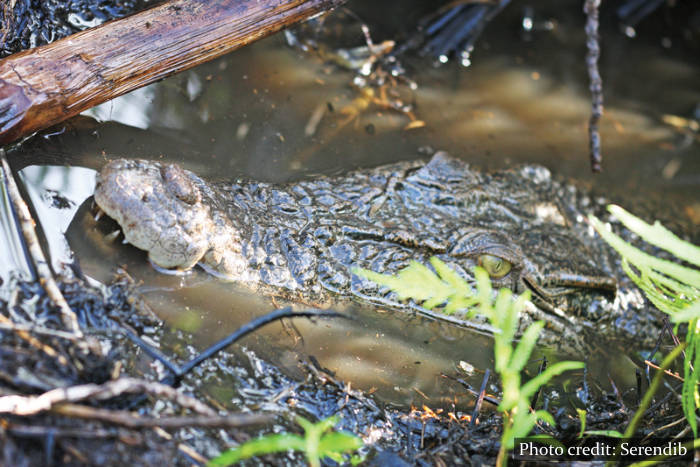 Muthurajawela Sanctuary is a large marsh land. You could observe various of native and migratory birds in here. Sometimes you will even grasp glimpses of big alligators!
Enjoy marshes around you when you sail near them. Read further, here.
Horagolla Wallawwa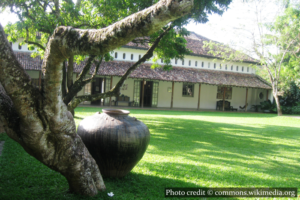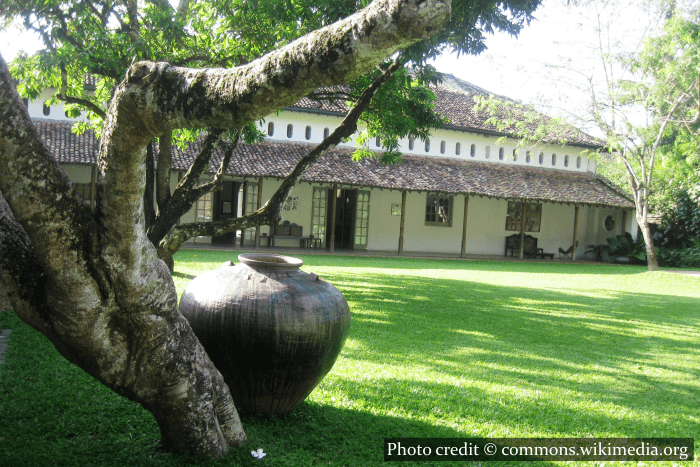 This historic bungalow (Wallawwa) is one of the country's best preserved buildings. It is most renowned for being an architectural masterpiece in Sri Lanka. This wallawwa is the birthplace for a venerated political family of this island, Bandaranayke Family.
Geoffrey Bawa, world famous Sri Lankan architect, redesigned the stables of this wallawwa in late 80s. It is all these we find this place interesting!
Botale Wallawwa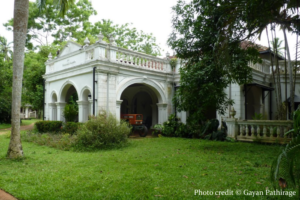 Botale Wallawwa is another architectural masterpiece in Sri Lanka! This wallawwa belongs to D.S. Senanayake Family, another venerated political family in the
country. D.S. Senanayake was considered as the father of island after Brits left in 1949. 
Set in a rather rural countryside this wallawwa is quite different from Horagolla wallawwa. We are in a position to take you to visit this wallawwa if you arrange it with us beforehand.
Some Trails of King Sirisangabo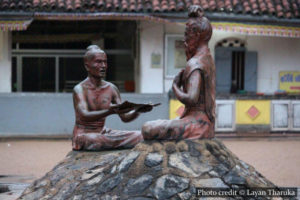 Attanagalla Rajamaha Viharaya is said to be the place where King Sirisangabo offered his own head to a giving peasant in 3rd century AD. Even thou it is yet to be proven by archaeological explorations this Temple and Gotabaya Temple in Botale said to be the places related to this historical legend.
Prestigious looking Attanagalla Temple and paintings of Kandian era in Gotabaya Temple are fascinating. Especially of the painting how the painter depicted evils spirits opens a passage to the mentality of Kandian era! 
Aluthapola Temple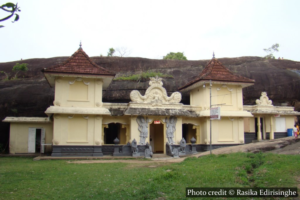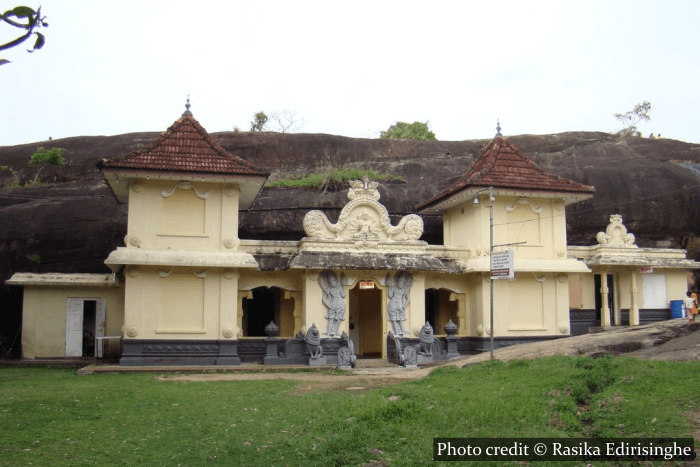 Fleeing away from the invading South Indian army King Walagamba hid himself in at this place around 80 BC. After 12 years of painstaking planning he regained the Throne in 89 BC.
Even though this temple keeps this 2200 years old history alive none of the artifacts have been preserved sadly, except a ruin of old Dutch observatory. This observatory was built in 18th century. The modern Temple was built in Kandian Era, 1473-1815. The temple is a charming place to visit. Try to be there around 4.30. Then you would have enough time to wonder around the Temple and see the eye-catching rituals of monks at 5.30.
Munneswaram Kovil in Chilaw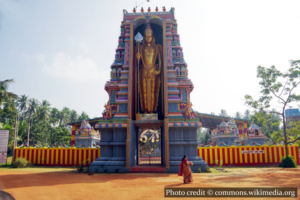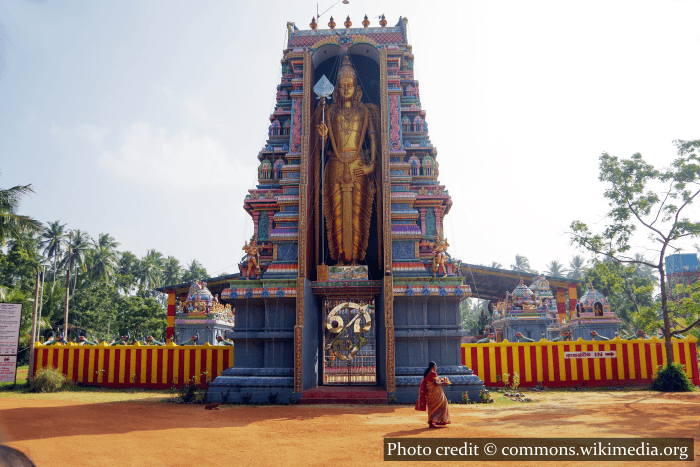 The Goddess of Time, Change, Power, Creation, Preservation and Destruction, or simply put as KALI Davi, is worshipped at this Hindu Temple in Chilaw.
Kali Devi is sought out for sorcery and cursing too. The historic traveller Ibn Battuta was travelling through this place in 14th century. Fine details of Kovil, contrasting colours of it, majestic chariots and rituals of local worshippers are interesting to watch. Or you may want to try some sorcery while you are here 😉
Kitulgala - Adventure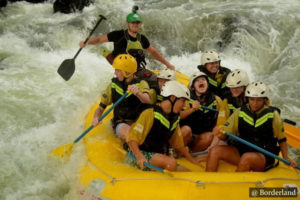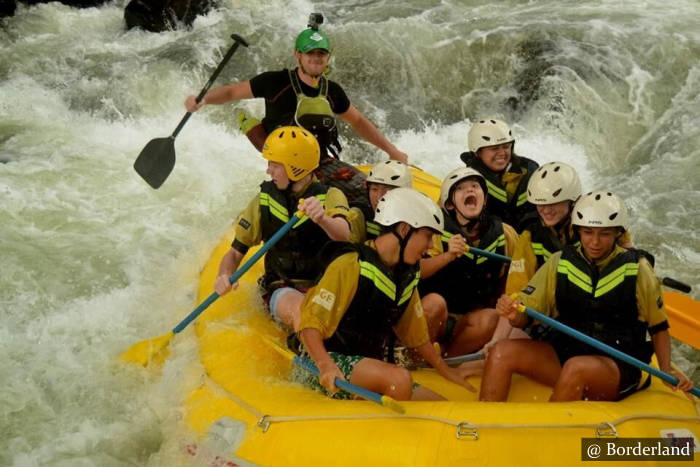 If you need a bit of adrenaline rush, and you have about 7 hours handy, then we will take you to Kitulgala for exactly what you need.
Advance kayaking, water rafting, waterfall abseiling, zip lining, canyoning, biking and  many more activities are here. Read further, here.
Pinnawala Elephant Orphanage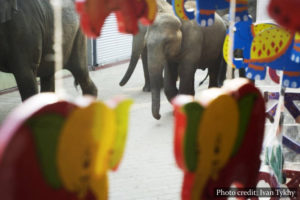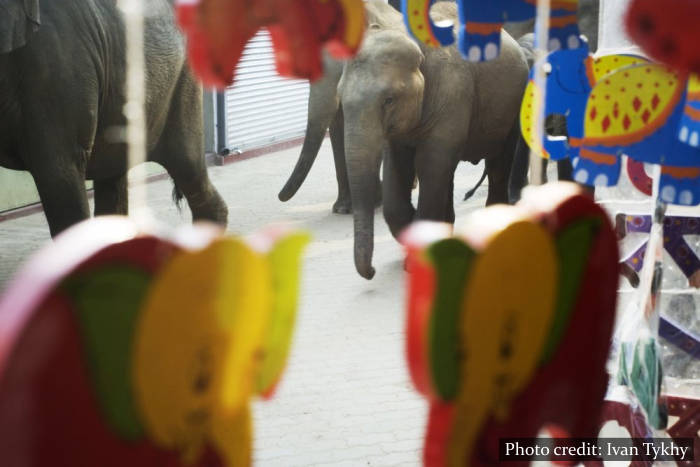 About 75 Kms away from Negombo there is this world famous Pinnawala Elephant Orphanage. State runs orphanage, which was set up in 1975, today cares for over 80 abandoned and wounded elephants. This place hosts the largest orphaned group of elephants in the world.
The best time to visit the Orphanage is around feeding time. We usually reach the place around 10.30, so we could see elephants are bathing in the Kalu Ganga River and bringing back to feed them inside the Orphanage. If you fancy, you could even feed milk to a giant baby elephant here.